Production Begins at SEL's New PCB Facility
PULLMAN, WA – Schweitzer Engineering Laboratories officially began fabricating printed circuit boards in its new facility in Moscow, ID in February.
The 162,000 sq. ft. facility, which the company began constructing in spring 2021, will house the operation to fabricate the printed circuit boards used in its products that protect, monitor, control and automate electric power systems around the world.
"SEL folks with many different backgrounds, educations, interests and experience teamed up to conceive, design, build and produce these essential components of our products–all on our own dime without any government handouts or subsidies," said president and chief technology officer Edmund O. Schweitzer, III. "We committed to each other to do it right, and now we are safely producing the highest-quality boards in the cleanest plant, using the least amount of resources that science and engineering afford us today. This is $100 million of employee owners' money well spent on creating our future right here at home. I'm proud of our entire team and grateful for the economic and political freedom we enjoy in America."
SEL has designed a highly automated and environmentally friendly process for manufacturing printed circuit boards that is focused on the health and safety of the community. The facility features zero-discharge water recycling and air filtration technology.
"We went into this not only thinking like a manufacturer but also like community members," said senior director of vertical integration Jessi Hall. "So much research, learning and testing has gone into designing our fabrication processes and selecting the best equipment and tools for the job. We are excited to see everything come together and to really start realizing the benefits of these investments."
The company will employ about 60 people in the facility in positions ranging from a variety of engineering roles, including chemical, mechanical, software and computer-aided manufacturing, to equipment operators and maintenance workers.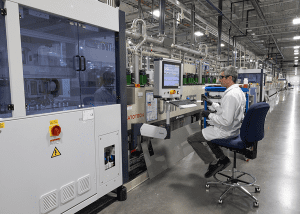 The SEL property team served as the contractor for the construction project and partnered with multiple companies local to the Pacific Northwest. The team was able to complete the project within the expected timeline despite global supply chain challenges.
"I am so proud of SEL's partnership with dedicated subcontractors to find solutions when materials became scarce and timelines unwieldy," said vice president of property Jana Schultheis. "Our construction teams are second to none. It is a proud day to see this factory come online as a result of their ingenuity."
SEL plans to host a grand opening for the facility later in the year.

Sihui Fuji to Build New Plant in Thailand
GUANGDONG, CHINA – Sihui Fuji Electronics Technology announced that it will be building a 500 million yuan ($72 million) printed circuit board factory in Thailand.
The Chinese PCB supplier said the new factory will allow it to respond to the needs of its overseas customers and expand its international business, as its production capacity is currently concentrated in China.
The planned facility in Thailand's Amata Industrial Park in Rayong Province is slated to begin mass production in 2025. The company did not disclose the targeted design capacity of the plant.

NI Acquires SET
AUSTIN, TX – National Instruments announced the acquisition of SET, a German developer of aerospace and defense test systems and recent innovators in power semiconductor reliability tests. With the acquisition, the companies will aim to reduce time to market for critical, highly differentiated solutions and accelerate semiconductor-to-transportation supply-chain convergence with power electronic materials such as silicon carbide (SiC) and gallium nitrite (GaN), according to a release from NI.
NI first announced a strategic minority investment in SET in 2020 to help aerospace and defense companies solve soaring development costs and integration challenges. The collaboration enhanced a system-on-demand and model-based test approach delivered to shorten time-to-market schedules, reduce program risk, integrate labs, and optimize data and assets, which offered mutual customers more time spent ensuring the quality and safety of future products and less on building test systems. Those collaborative efforts will continue with a focus on sustainable commercial aviation, space launch vehicles, and urban air mobility applications.
Going forward, the acquisition will expand NI's opportunity in power semiconductor reliability systems for automotive, a high growth area of investment. SET has been innovating on new capabilities in the emerging automotive supply chain area of power semiconductors since before NI's initial partnership in 2020. SET's participation in cross-industry and academic forums on reliability test techniques has made significant contributions to the understanding of electric vehicle applications for power semiconductors.
"The automotive supply chain is going through a transformation where both OEMs and semiconductor players are rapidly innovating on new technologies. The ability to adequately specify and predict how these new technologies behave inside new electric vehicles is critical for performance and safety," said Ritu Favre, EVP and GM of NI Business Units. "SET is a clear innovator in this area as well as an established provider in avionics testing. NI is a global leader in automated test and measurement systems. By combining capabilities, NI and SET can offer more differentiated solutions to customers and grow together by leveraging NI's global scale."
"We leverage extensive expertise to develop groundbreaking solutions for power semiconductor testing," said Frank Heidemann, the founder of SET. "By offering new and dynamic test procedures, SET ensures the qualification of cutting-edge silicon-carbide (SiC) power semiconductors for the automotive industry with high precision and reliability. With our innovative approach, SET is leading the charge in solving the industry's most pressing qualification challenges."
NI funded the transaction through cash on hand. SET is headquartered in Wangen, Germany, with approximately 100 employees joining NI.

Kinwong Holds Groundbreaking for New Manufacturing Facility
XINFENG COUNTY, CHINA – Kinwong Electronics held a groundbreaking ceremony in March for its new PCB manufacturing facility in China's Jiangxi Province.
Liu Shaobai, chairman, Kinwong Electronics, said the ceremony marks the project's entry into the substantive construction stage, and said the factory should be finished by the end of the year.
The project will be constructed in two phases, with a total investment of about 3 billion yuan ($436 million). The facility will use advanced technology, intelligence and high-precision manufacturing equipment to create a high-level multilayer PCB R&D and production base with a high degree of automation, intelligence, production efficiency and cost advantages, Liu said.

Study: Environmental Impact of Flexible Electronics Can Be Reduced 90%
ESPOO, FINLAND – A recent study by the VTT Technical Research Centre of Finland found that environmental impact could be reduced by 86% when additive printing methods are used to create flexible electronic components.
"Traditionally, metal electronics parts are etched out of copper sheets in a process called PCB etching. The process removes unwanted copper from a printed circuit board, so only the required circuit remains while the rest of the sheet isn't used," says Liisa Hakola, senior scientist and senior project manager, VTT. "We found that flexible metal electronics parts can instead be printed onto bio-based substrates, like paper or bio-plastic. The process requires less energy and avoids the use of harmful chemicals while drastically reducing material waste and increasing the use of renewable materials. This change in the manufacturing process is the single largest factor in potentially reducing the climate impact of flexible electronics."
There are additional challenges that still need to be resolved, including the use of silver, which has a high environmental impact. The project found that silver can be replaced with more abundant and less valuable alternatives, such as copper or carbon-based materials, which can provide further reduction to the environmental footprint of flexible electronics. In addition, end-of-life management and longevity of product usability, i.e., better durability and decreased energy consumption, are also key factors in creating more sustainable electronics.
The flexible electronics market is expected to grow to $46 billion by 2026, and by 2030, global electronic waste will reach 74 billion kilograms, with only 20% collected or recycled properly. The electronics industry is currently facing major challenges with the availability of crucial materials combined with increasing pressure to cut its environmental footprint and move toward circularity.
In March 2022, the European Commission published its Sustainable Products Initiative, which aims to ensure that all products placed on the EU market become more sustainable. The initiative also includes electronics, and manufacturers are facing pressure to meet new sustainability requirements in the years to come.
"At VTT, our goal is to set a new standard for sustainability in the electronics industry and offer solutions that increase circularity at every stage of the electronics life cycle," said Maria Smolander, research team leader at VTT. "Implementing these new manufacturing methods on a mass scale is a challenge that the industry will inevitably need to tackle in the coming decade in order to keep up with increasingly strict regulations and demands from consumers."

MKS Invests in Package Substrate Research Site
YOKOHAMA, JAPAN – MKS Instruments in March unveiled a significant investment in its Yokohama Technical Center in Japan that will enable an integrated approach to creating solutions for complex package substrate manufacturing, satisfying current requirements as well as those needed for future roadmaps.
The recent investment in the YTC delivers the latest capabilities for producing next-generation package substrates. The YTC utilizes dedicated lasers, optics, and motion systems for high-precision, high-speed via formation in ABF build-up laminates, in combination with the latest process chemistry and equipment for desmear and electroless copper metallization. Using the latest Equalized Curtain Flow (ECF) plating tool, the YTC is able to support customers in their yield optimization and next generation process development for advanced packaging applications.
During a ceremony to celebrate the YTC expansion, Dr. John T.C. Lee, president and CEO of MKS Instruments, escorted visitors around the facility to showcase two new systems that have been installed, a ESI Geode A CO2 laser system and Atotech G-Plate plating tool, as well as demonstrating the Vitrocoat process for Plating on Glass (PoG).
"We are highly committed to driving and leading technology development within our industries," Dr. Lee said. "With these key installations, we are accelerating time to market through our combined capabilities, which allow us to view problems holistically and design solutions faster. This helps us to drive innovation for next generation electronic devices and offer customers and OEMs quicker development cycles for new products and materials enabling high-end SAP technology requiring <=5/5µm lines and spaces. Our unique portfolio of MKS combined services at our Yokohama technical center allows us to reduce the cycle time for a typical ABF sample from three months or more to less than one month."

DCP Capital Looking to Sell MFS Technology
HONG KONG – Chinese private equity firm DCP Capital aims to sell its stake in MFS Technology, which makes flexible printed circuit boards, for at least $550 million, Reuters reported.
The firm started marketing the sale in mid-March and will send out confidential information memoranda in April, sources said.
The sale is targeting primarily financial sponsors, but also strategic buyers, and initial bids are expected by late May.
DCP Capital bought a controlling stake in MFS in 2018 from Navis Capital Partners and Novo Tellus Capital Partners for an undisclosed amount. MFS manufactures circuit boards with applications focused on automotive, industrial, medical and data storage end-markets, and has manufacturing facilities in China and Malaysia.

Kulicke and Soffa Acquires Advanced Jet Automation
SINGAPORE – Kulicke and Soffa Industries in February announced the acquisition of Advanced Jet Automation, including the material business and assets formerly owned by its affiliate, Samurai Spirit Inc., a Taiwanese developer and manufacturer of high-precision micro-dispensing equipment and solutions.
The acquisition will broaden Kulicke and Soffa's existing semiconductor, electronic assembly and advanced display portfolio and increase opportunities in several growth areas including mini- and micro-LED, which support both backlighting and direct-emissive approaches, according to a release from the company.
K&S said the acquired dispense technology currently supports advanced backlighting production in a high-volume, high-accuracy environment and is complementary to its existing advanced display portfolio. Beyond advanced display, the dispense equipment market, which collectively includes both semiconductor and electronics assembly opportunities, is adjacent to several other K&S businesses serving the general semiconductor, automotive, LED, and memory end-markets.
AJA will operate as a business unit, leveraging K&S' global sales and distribution network, operational capabilities, and R&D competencies.
"This strategic acquisition accelerates our long-term roadmap and future growth potential supporting exciting new technology transitions. AJA's unique competencies and proprietary technology in high-precision dispense complement our market-leading advanced display, advanced packaging and electronics assembly solutions," said Chan Pin Chong, executive vice president and general manager, Kulicke and Soffa Products & Solutions.
"After working closely with the K&S team through a successful closure, I am confident our performance-based cultures, rich technology backgrounds and market-focused solutions are highly complementary. This alignment enables us to quickly scale our unique solutions, which address the evolving complexity and emerging opportunities within the large dispense market," said Raymond Chen, founder, AJA.

Foxconn Leases New Site in Zhengzhou
TAIPEI – Foxconn Technology Group has leased a 293-acre plot of land to build new smart warehouses in Zhengzhou, the same Chinese city where the company operates the world's largest iPhone plant.
The 197 million yuan ($28 million) lease in the Zhengzhou Comprehensive Bonded Zone comes after efforts by government officials to convince the Taiwanese assembler to keep its local operations.
The deal was announced days after Foxconn chairman and CEO Liu Young-way visited Zhengzhou, where he met Lou Yangsheng, the Chinese Communist Party's Secretary in central Henan province. Officials assured Liu that the government would provide comprehensive "services" to Foxconn's local operations and urged the firm to "take root" in Henan, according to a statement published by the municipal government of Zhengzhou, the provincial capital.
Foxconn's operation in Zhengzhou was severely disrupted late last year by the exodus of tens of thousands of employees and worker protests that turned violent amid a coronavirus outbreak, and the company has since secured a new manufacturing site in Vietnam and invested in its Indian subsidiary with plans to quadruple its workforce in India over the next few years.

Benchmark Hosts Grand Opening of New Precision Technologies Facility
MESA, AZ – Benchmark Electronics in March celebrated the grand opening of its new Precision Technologies facility here. The company plans to invest around $20 million into capabilities and technology at the new facility, in addition to hiring 100 people to support the facility as the company ramps up with customers.
The facility is designed to provide several key engineering and manufacturing solution services, most notably supporting the production of semiconductor capital equipment building blocks and solutions. It significantly expands the existing cleanroom capacity across its Precision Technologies group with additional opportunity for the vertical integration of key processes. Those processes include metal joining applications such as TIG welding and electron beam welding, precision cleaning and other chemical finishes.
"Benchmark is a key solution partner to the capital equipment market worldwide and this new facility will enable us to support our customers in the US and across the globe with next generation manufacturing and engineering solutions," said Jeff Benck, president and CEO, Benchmark. "The investments we're making to serve these customers will be critical to meeting the increasing demand for semiconductor capital equipment, especially with the growth in demand for semiconductors and new domestic fabs being built supported by the CHIPS Act incentives."
Benchmark celebrated the grand opening alongside Arizona Governor Katie Hobbs, Mesa Mayor John Giles, ACA President and CEO Sandra Watson, Benchmark customers, and Arizona dignitaries across the technology and economic development sectors.
"We are proud to celebrate the grand opening of Benchmark's new facility alongside the best and brightest technology leaders in Arizona," said Hobbs. "Since joining Arizona's thriving technology community, Benchmark has been an incredible partner, creating skilled jobs and advancing Arizona's innovation reputation. We look forward to seeing the great work done here at Benchmark Mesa to further enhance our growing semiconductor industry."

BMZ Group Acquires Visatronic
KARLSTEIN AM MAIN, GERMANY – BMZ Group, a specialist in lithium-ion batteries, announced the acquisition of Visatronic GmbH, a Mainhausen, Germany-based EMS supplier.
Visatronic had already been a supplier to BMZ Group for years, and the takeover of the company, which has seen steady growth since its foundation and recorded 2022 as the best year in its company history, offers synergies for both sides, BMZ Group said in a release.
Visatronic will retain its economic independence, and BMZ will integrate the supplier into the group to increase the security of supply. Visatronic will see a network expansion, particularly on the global stage, with regards to opportunities in purchasing, sales and expansion of production capacities. The management, which has been in the hands of the Gebauer brothers since 2000, will remain contractually secured for at least three more fiscal years. Beyond that, no fundamental changes are planned for existing customers and employees.
"We are very pleased about the inclusion of Visatronic into the BMZ Group," said Sven Bauer, CEO and founder of BMZ Group. "This strengthens another important Made in Germany factor in battery manufacturing. In times of uncertain supply chains, such alliances are indispensable for technology companies."
"We have known and appreciated the BMZ Group as a customer for many years and are taking the well-considered step of joining the group primarily with a view to expansion opportunities and future security for the company and its employees," said Michael Gebauer, managing director, Visatronic.

TTM to Sell Backplane Assembly Unit to Chinese Assembler
SANTA ANA, CA – TTM Technologies has signed a definitive agreement to sell its Shanghai backplane assembly plant for approximately $11.8 million, subject to customary post-closing adjustments, to DBG Holdings. TTM expected the transaction to close near the end of the first quarter.
BPA is a small assembly facility that generated $44.7 million in revenues and an immaterial amount of operating income in 2022, TTM said in announcing the sale.
TTM said the transaction is consistent with the printed circuit board fabricator's strategy to continue developing TTM as a diversified technology solutions leader and to reshape its core business portfolio for improved differentiation, financial stability and long-term profitability. This strategy entails investing in differentiated commercial and aerospace & defense ("A&D") capabilities.
Following the divestiture, TTM will exit the commercial backplane assembly business.
TTM called DBG a "particularly attractive buyer" due to its strategic commitment and understanding of the assembly business. It has existing customer relationships with Shanghai BPA customers, and also offers related products, services and expertise. The firm reported net profits of 76.1 million yuan ($10.9 million) on revenue of 301 million yuan in 2022.
"Shanghai BPA has been a longtime member of the TTM family, but we firmly believe this divestiture is in the best interests of our employees and customers," said Tom Edman, president and CEO, TTM. "TTM is selling Shanghai BPA to a buyer that is fully qualified and committed to achieve continued success for this business. In turn, this divestiture positions TTM to focus our full energy and resources on other lines of business where we are very well positioned to service our customers with differentiated product solutions to address the challenges and growth opportunities that exist across the aerospace & defense, automotive, medical, industrial & instrumentation, networking and data center computing end-markets.
"While we are announcing the divesture of the Shanghai BPA business today, we will continue to operate the business in the same manner as we do now through the date of close, which we anticipate to occur near the end of the first quarter. This includes fully supporting our Shanghai BPA employees and customers."

Zollner to Add 100 Jobs in Virginia
LEESBURG, VA – Zollner Elektronik will invest $18 million to expand in Virginia, including boosts to its electronics manufacturing operations in Danville as well as the company's U.S. headquarters in Leesburg, adding a total of 100 jobs between the two locations.
The expansions include $14 million to expand manufacturing operations in the Danville-Pittsylvania County Regional Industrial Facility Authority's Cyber Park to develop custom electronics products for clients using proprietary technology, which will add 80 jobs. In Leesburg, the company will invest $4 million and add 20 jobs.
The expansion comes after Zollner acquired Leesburg-based Electronic Instrumentation and Technology's (EIT) electronics manufacturing services (EMS) division last July.
"Zollner Elektronik's decision to increase its market reach with the expansion of its manufacturing capabilities in Danville and U.S. headquarters in Loudoun County demonstrates the strength of our business climate and workforce that benefits diverse industries and locations across Virginia," Virginia Gov. Glenn Youngkin said in a statement. "EIT has a long history of success in the commonwealth, and we look forward to building on that partnership with Zollner in the years to come."
EIT has locations in Leesburg, Danville and Salem, NH.

JEDEC Creates New Automotive Steering Subcommittee
ARLINGTON, VA – JEDEC announced the formation of the JC-42.9 Automotive Steering Subcommittee responsible for investigating memory technologies and recommending solutions pertaining to automotive applications.
Following approval by the standards group's board earlier in the month, the new subcommittee held its first meeting in Seattle, the week of Mar. 6.
Responsibilities of the JC-42.9 subcommittee include generating directional or recommended automotive-specific standards expected to be applicable across different devices or modules, such as temperature range & classifications, telemetry support mechanisms, related firmware, quality/reliability requirements, and test and certification process and procedures. The subcommittee may also research various memory technologies, such as DRAM, non-volatile or otherwise, at the device or module level for optimal memory solutions for the automotive applications. The subcommittee will liaise with other JEDEC committees and external partner organizations in fulfilling its objectives.
Industry participation is welcome, and interested companies are invited to contact the JEDEC office to join JEDEC and become involved with JC-42.9.
"The formation of JC-42.9 is an essential aspect of JEDEC's role in the landscape of standards development for automotive applications," said Mian Quddus, chairman of JEDEC's board. "One of JEDEC's core strengths is the breadth of our membership, and the diverse skillsets company representatives bring to technical committee activities, and we look forward to adding value to the industry by bringing this experience to bear on standards for automotive electronics."