China to Remain Leading PCB Manufacturer, Study Says
TAIPEI – The global PCB industry will continue to grow in the near future, and China will hold its position as the center of manufacturing for the industry, according to a prediction from Prismark released by the Taiwan Printed Circuit Association in late February.
The firm forecasts annual growth of around 4.6% for PCB output in China until 2026, and the PCB output value will reach around $67.8 billion by 2027 based on growth in the communications market, computer market, automobile market, consumer electronics and other industries.
In 2021, due to factors such as a recovery in demand, upgrading of technical equipment, and a sharp rise in raw material prices, the output value of PCBs in mainland China grew to reach $51.2 billion, a year-on-year increase of 28.4%. For that year, the output percentage of products from China was 49% standard multilayer boards, 18% HDI boards, 14% rigid single-layer boards and 14% flex circuits. High-value IC substrates accounted for 4% of the country's output, and rigid-flex boards accounted for 1%.
The top three categories for China's 2021 output were communications, computers and commercial equipment, and automobiles, accounting for 32%, 27%, and 16% of the nation's output respectively. Looking at industry trends, computers and commercial equipment grew rapidly in 2021, mainly due to the increase in demand for commercial equipment with the construction of new infrastructure such as data centers; while the demand in the communications field declined, mainly due to a decrease in demand for mobile phones. Compared with the rest of the world, the PCB demand in mainland China's automotive sector was significantly higher than the global average.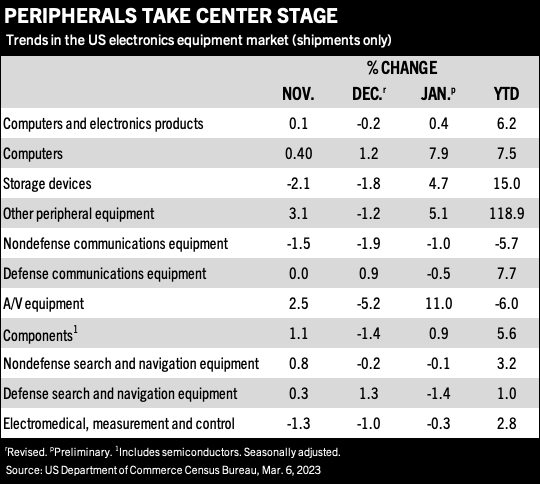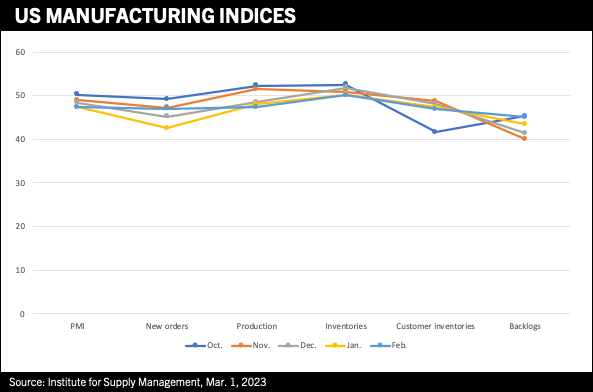 Hot Takes
Tech salaries grew 2.3% in 2022 compared with 2021, reflecting a steady upward trend since 2017. (Dice)
North American EMS shipments were up 5.1% over last year in February. Shipments decreased 4.9% sequentially. Bookings fell 5.4% year-over-year and dropped 16.4% percent from January. (IPC)
PC monitor shipments hit a record low in the fourth quarter, but a recovery is expected in 2024. (IDC)
The top 10 global OEMs decreased their chip spending by 7.6% and accounted for 37% of the total market in 2022. (Gartner)
North American PCB shipments in February were up up 5.6% compared to the same month last year, and up 16.4% compared to January. Bookings were up 1.5% from a year ago and 7.8% sequentially. (IPC)
Global shipments of AR/VR headsets declined 20.9% year-over-year to 8.8 million units. (IDC)
Global DRAM revenue fell by 33% quarter-over-quarter to $12.28 billion – a decline larger than the third quarter's 28.8% drop and close to the sequential decline of 36% for the final quarter of 2008, when the global economy was in the midst of a major financial crisis. (TrendForce)
Despite a fourth quarter slowdown, the PC workstation market managed to achieve a shipment record of nearly 7.7 million units, growing 2.1% and surpassing the previous record of 7.5 million set in 2021. (IDC)
The worldwide hardcopy peripherals market saw overall shipments grow 11.6% year-over-year to nearly 25 million units in the fourth quarter. (IDC)
Future demand for servers and data centers will grow steadily, and suppliers of PCB multilayer boards, HDI, and ABF carrier boards will benefit. (Business Times)
Vietnam's electronics industry has seen good progress in recent years, accounting for about 18% of the total industrial production value and more than 30% of the total export revenue of the country. (Vietnam General Statistics Office)
Smartphone shipments will decline 1.1% in 2023 to 1.19 billion units, down from the 2.8% growth in the prior forecast as market continues to suffer from weak demand and ongoing macroeconomic challenges. (IDC)