Apple Still Sweet for Taiwanese Flex Makers
TAIPEI – The success of Taiwanese PCB flex circuit manufacturers this year will come down to the new iPhone. The Taiwanese Printed Circuit Association (TPCA) says there's a strong correlation between iPhone sales performance and the overall output value of the Taiwan PCB market.
Looking at the third quarter, major flex makers Zhen Ding and Taijun are optimistic about the latest generation of smartphone. Taijun has focused on LCP technology R&D and the development of LCP laminates for high-frequency flexible circuits. The fabricator is also looking at FPC41.11 next-generation technology of Neuro Circuit, which can provide high-speed and low-latency transmission solutions for huge data computing, which will boost AI capabilities.
Industry insiders expect Apple to upgrade its motherboard, which is expected to drive new PCB materials. The market also thinks that the two major features of future iPhones will be the introduction of periscope lenses, which use a prism or mirror to shine light at an angle and enable extremely long zoom ranges, on high-end models, and the migration to USB-C.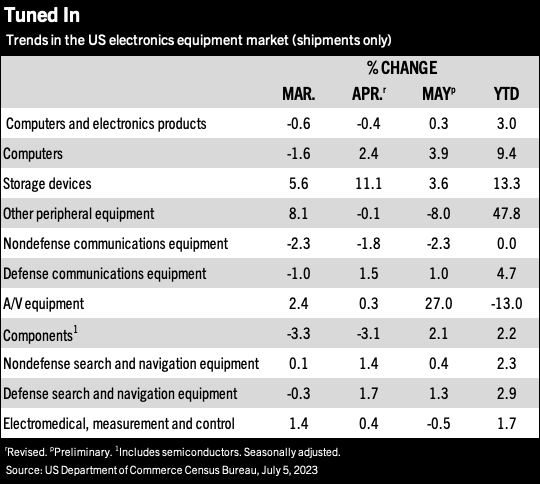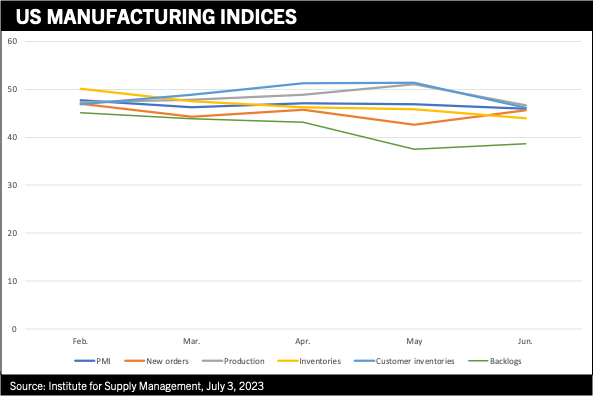 Hot Takes
Printed circuit board and multichip module design software revenue increased 25.6% to $368.4 million in the first quarter. The four-quarter moving average, which compares the most recent four quarters to the prior four, rose 15.7%. (ESD Alliance)
Japan's PCB production fell 19.8% year-over-year in April, hitting a two-year low. (JPCA)
Consumers are expected to spend a record $41.5 billion on back-to-school shopping this year, up from $36.9 billion in 2022 as well as the previous high of $37.1 billion in 2021. (National Retail Federation)
Worldwide PC shipments totaled 59.7 million units in the second quarter, a 16.6% decrease from the second quarter of 2022, according to preliminary results by Gartner.
North American EMS shipments in June rose 0.9% over May and 4.3% from the previous year. Bookings fell 11.5% year-over-year and increased 0.6% sequentially. (IPC)
Global TV shipments for the second quarter will reach 46.63 million units, a 7.5% quarter-on-quarter increase and a year-on-year rise of 2%. (TrendForce)
Global PC shipments declined 13.4% year-on-year during the second quarter. (IDC)
The DRAM market is expected to attain equilibrium between supply and demand in the fourth quarter of 2023. (DigiTimes)
The semiconductor market declined for the fifth straight quarter, marking the longest recorded period of decline in more than two decades. (Omdia)
Global shipments of smart home devices declined 5.6% year-over-year to 186 million units in the first quarter. (IDC)
North American PCB shipments in June fell 15.8% from a year ago and fell 0.8% from May. Bookings fell 7.7% from 2022 and rose 0.2% sequentially. (IPC)
Worldwide silicon wafer shipments increased 2% sequentially and fell 10.1% from last year during the second quarter. (SEMI)