Report: Sustainability, Mobility to Drive Semi Growth
Three-quarters (76%) of semiconductor executives expect the industry's supply chain challenges to ease by 2024, yet companies need to be prepared to withstand other market pressures by focusing on investments that will help drive future growth, according to a new study from Accenture. The firm's "2022 Technology Vision" report, based on feedback from 300 global semiconductor executives, found 45% believe the metaverse will have a transformational impact on their organization, and 90% believe it will be in the next four years.
"Traditional" vehicles are undergoing a renaissance, and autonomous vehicles could be mainstream for mass transportation by 2024, according to 32% of respondents. Some 41% of respondents indicated that almost a third of their capex/opex budgets are dedicated to sustainable programs. And 21% of respondents believe that increased health education and literacy is the most important aspect enabled by semiconductor innovation.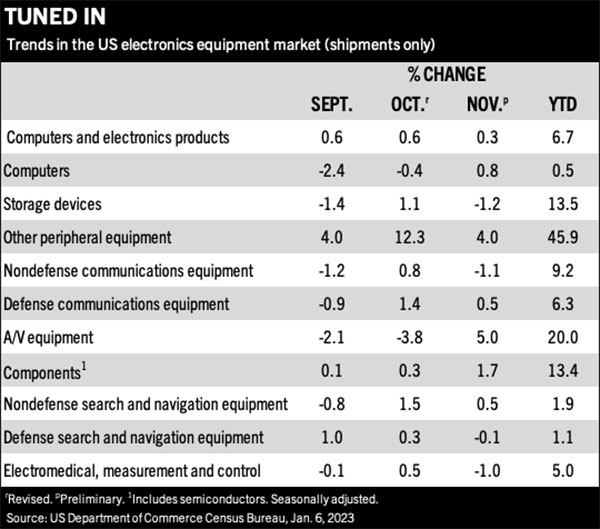 Hot Takes
Global shipments of notebook computers (from ODMs) reached around 186 million units for 2022, a year-over-year drop of 25%. Shipments are projected to drop 8% in 2023 to 171 million units. (Trendforce)
Taiwanese PCB fabricators recorded record revenues of NT$249 billion ($8.2 billion) in the third quarter. (TPCA)
The wearables market grew 1.7% year-over-year in the third quarter, but global shipments for full year 2022 are forecast to decline 3.3% to 515.6 million units, the first full year of decline since 2013. (IDC)
Copper-clad laminates and other PCB materials suppliers expect customer demand to rebound after the second quarter of 2023. (DigiTimes)
The Philippines hopes to attain $50 billion in revenues this year, up from $45.6 billion in 2022. (SEIPI)
The North American electronic components sales sentiment increased 7.7 points to 65.8 in December, and the index outlook for January was 80. (ECIA)
Global PC shipments in the fourth quarter fell 28% from a year ago to 67.2 million units. (IDC)
DRAM prices are poised to continue their slide in the first quarter, with mainstream DDR4 prices declining 15-20%. (DigiTimes)
Most Nand flash suppliers have started to scale back production. (Trendforce)
Nearly 60% of the world's servers were produced in China in 2022, down from 70-80% before the US-China trade war. (DigiTimes)