The West is Rediscovering India
The subcontinent explodes with new EMS work, prompting a spate of IPOs.
by Mike Buetow
Putting aside the obvious supply chain disruptions, the two big stories out of the EMS industry in 2022 were the emergence of India, led in particular by Apple's pivoting from China, and the number of IPOs.
While the Indian government is aggressively recruiting foreign electronics investment, there's no question India's appearance as a viable competitor to – dare we say it? – China is being driven by Apple. The world's most valuable company tripled its production to more than $7 billion of iPhones in what is now the world's most populous country during the past fiscal year,1 mostly at the expense of China. Some reports hold Apple will raise India's share of its production to 25% in two years.
One of the winners was Pegatron, which beat out Foxconn for the India orders, and is reportedly investing $150 million in a second iPhone manufacturing facility in Chennai.2 Luxshare, called little Foxconn by some, has also barged in, buying two of Wistron's plans in India, and projecting unit sales to more than double to nearly 50 million units this year.
Not to be outdone, Foxconn will invest a reported $700 million on a plant in southern India to make telecom components and possibly iPhones.3
The EMS operations of Salcomp, the Finnish maker of mobile chargers, currently are just under $500 million in India alone, and the company expects to surpass $2 billion in the country by 2025.4 It plans to double its workforce there to 25,000 in that time.
Contrarily, Wistron is bailing on India, with plans to sell its remaining plants to domestic giant Tata Group.5 Tata is India's largest company, with revenues of $128 billion last year. Drawing a range of end-markets – aerospace, industrials, finance, IT, and telecom, among them – Tata is perhaps best known outside India for its auto unit, which brought in $44 billion in revenue in 2022. While its market cap is roughly one-tenth that of Apple, it appears to be taking advantage of Wistron's inability to generate profits from the iPhone business, which, coupled with well-publicized worker riots, pushed the Taiwanese ODM back to less challenging locales.
Not everyone is focusing on smartphones, or even going it alone. Reliance Industries, an Indian conglomerate, plans to invest 16.7 billion rupees ($221 million) to form a joint venture with Sanmina.6 The new entity would make hardware for 5G communications, cloud infrastructure, healthcare systems, clean technology, and defense and aerospace, Reliance said.
Another ODM that is aggressively expanding is VVDN Technologies. The privately held company was founded by ex-Silicon Valley engineers in 2007, and now claims to be India's largest ODM.7 In February it announced plans to invest $100 million over the next five years in a new 100-acre factory in Tamil Nadu. That plant will add PCB fabrication capability, rounding out the firm's vertical integration strategy.
Besides India, perhaps no other country has benefitted from the China migration more than Mexico. Foxconn, Pegatron, Wistron, Kimball, and NeoTech are among those adding capacity south of the US border.
Other Southeast Asian nations are also reaping the spoils. Foxconn (again), Pegatron (again), Luxshare, Key Tronic, Spartronics and others either added or plan to add capacity in Vietnam. GPV's largest plant is in Thailand, and it plans to expand the production area by some 75,000 sq. ft. in 2023, bringing it to 237,000 sq. ft. Not to be outdone, Plexus just opened a 400,000 sq. ft. site in Bangkok. And Fabrinet, which has the largest footprint of any EMS in Thailand, opened a 1 million sq. ft. building on its Chonburi campus.
Long an electronics power in its own right, Malaysia has set its sights on capturing a 15% market share of the global semiconductor and electronics sector by 2030, according to government officials.8 Éolane is launching a new subsidiary in Penang.
Some perspective on how this may play out, however. As of the end of 2021, Thailand had fewer electronics enterprises than the Silicon Valley. Malaysia has a population of about 33 million. Thailand's is twice that, and Vietnam's is about 100 million. Based on that, plus its longstanding warm ties with the US, Vietnam is better positioned than most other Southeast Asian countries to attract Western electronics companies. And India is poised to trump them all.
If we look at the countries represented on the CIRCUITS ASSEMBLY Top 50, it's plain to see how the landscape is shifting. Europe and the US have fewer entries than ever (TABLE 1), even with Creation Technologies' relocation from Canada. Meanwhile, India and China continue to emerge.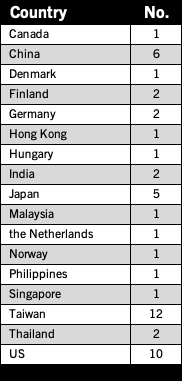 Defining the Data
Before we go further, some explanations are in order. The industry classifies companies by size, called tiers. Definitions vary. Investment bank Lincoln International, for example, calls EMS companies with revenues greater than $3 billion Tier 1, $300 million to $3 billion is Tier II, and below $300 million is Tier III. We feel revenue is only one measure of classification. A private company with a single site and specializations in prototypes and small runs has little in common with a publicly traded firm with operations in multiple countries or regions – which the all-encompassing Tier III definition could entail. As such, we add a Tier IV, which covers entities up to $50 million.
Next, for every EMS company in the world, there are almost as many business models. Standalone; vertical; NPI; volume; design; regional; multinational; plastics; sheet metal; components; subsidiary to an OEM; parent to an OEM: You could almost say, if you've met one EMS company, you've met one EMS company. One look at the Top 50 list (TABLE 2) and the variations become apparent.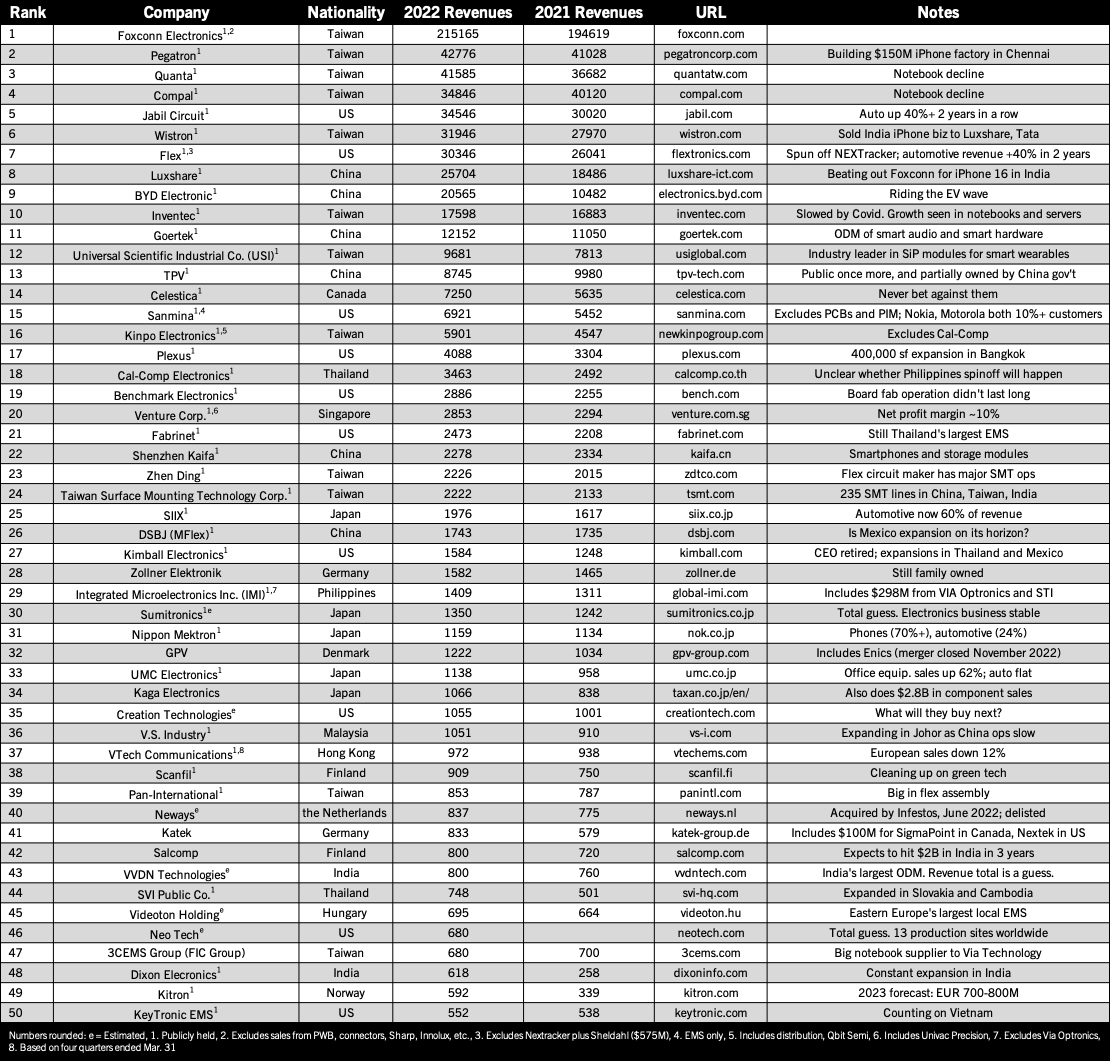 Some lists attempt to split the baby by differentiating between pure-play EMS companies (electronics assembly and tightly related services) and those that have a wider variety of offerings (such as manufacturers that build the entirety of white goods for name brands). Where the effort falls down, of course, is that while not every list includes, say Taiwanese mega-ODMs Compal or Quanta, no one dares omit Foxconn. Yet Foxconn's side businesses, such as FIH Mobile (a $1 billion+ cellphone subsidiary), Foxconn Interconnect Technology (connectors) and Foxconn Industrial Internet Co. (networking equipment ODM), are themselves larger than most other EMS companies, and are publicly traded besides. We don't attempt such maneuverings, if only because they obfuscate the true picture. The would-be no. 51 company on our list won't like it, but Compal performs more contract electronics assembly in a day than 96% of the world's EMS companies do in a year, and it deserves recognition.
Same goes for New Kinpo Group. The 46% owner of Cal-Comp (Thailand), Kinpo has vast other holdings including AcBel Polytech, Qbit Semiconductor and XYZprinting. It also has EMS operations separate of Cal-Comp (Thailand). We split the two for the purposes of this list. Combined, Kinpo would have revenues of $9.36 billion, including its branded (non-EMS) companies.
For years we have included the major fabricators that also offer EMS on our list. Our argument in favor of inclusion boils down to this: If Sanmina, which derives most of its revenue from EMS work but is also a significant bare board fabricator is eligible, then Zhen Ding, DSBJ (MFlex) and Nippon Mektron, three of the world's largest flex circuit makers which also happen to have hundreds of SMT lines, should be included as well.
The trick, then, is to determine a formula for reporting the EMS side of their respective businesses. For years, we calculated by estimating that the assembly portion of a populated flex circuit was approximately 40% of the entire unit. (This is less, of course, than the value of a typical rigid board assembly, wherein the bare board cost might be 4% of the total unit cost.)
However, according to Dr. Hayao Nakahara of N.T. Information, the world's foremost market researcher for PCBs, there's no one-size-fits-all equation. For a camera module, for instance, the unpopulated flex circuit value might be 15% of the total unit cost. But for a cellphone board, perhaps 40% would be attributable to the flex circuit, 40% to components, and 20% to labor and equipment amortization. Thus, knowing the product mix is important to understanding the "true" EMS portion of a flex circuit manufacturer, and even they might not know for certain.
That said, we do our best to exclude non-ODM/EMS revenue from the data. Luxshare, for instance, generates about 15% of its sales from connectors, so we deduct that much from its revenue on the CIRCUITS ASSEMBLY Top 50. Likewise, we cut $575 million from Flex to account for its Nextracker (solar products) and Sheldahl (flex circuits and materials) subsidiaries. Goertek, a major Chinese ODM of smart electronics wearables and home devices, generates about 18% of its sales from components. Dixon Technologies shows EMS only, not white goods, LEDs, etc. BYD includes just the electronics unit, not the auto group. DSBJ's (M-Flex) figures are based on the 65% of its revenue that comes from PCBs, then weighted for (estimated) EMS value. There will be mistakes.
Jabil includes Green Point (plastics) and Nypro/Johnson & Johnson (health care devices). If we include just the EMS unit, calendar 2022 revenues were $17.38 million, about half the overall sales. But, its diversified manufacturing services do include some sales that would be otherwise "EMS" had Jabil chosen a different reporting configuration.
Going Public
Even with GPV's acquisition of Enics and Neways going private, there are now about 130 publicly traded companies offering electronics manufacturing services either primarily or through a subsidiary. At least nine companies have gone public or announced plans to do so since January 2022 (TABLE 3). Continuing the theme, many of them are India-based. Most fall in the Tier III range, with annual revenues of $50 million to $300 million.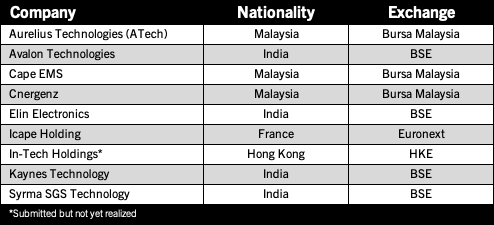 Notably, no North American-based EMS/ODMs have gone public in that time, nor has any firm listed on the primary US exchanges. We expect that to change over the next five years as private equity groups begin to wind down their investments.
TPV Technology went private in 2019, then was "acquired" in a reverse IPO by Nanjing Huadong Electronics in 2021 and is public once more. Another of the hybrid ODMs, TPV designs and manufactures products for numerous branded TV and PC makers, distributes its self-owned brands (which include AOC, AGON and Envision), and manufactures and sells Philips' monitors, TVs and AV products. It is 25% owned by Nanjing CEC Panda Information Industry Group, which is part of China Electronics Corp. (see below for more on that).
Gaining Currency
Most major currencies fell against the US dollar in 2022 (TABLE 4). For those companies reporting revenues in non-US currencies, we converted the numbers using the averages set forth on May 23, 2023. Currency fluctuation will account for why some companies appear on some industry lists and not others. Likewise, CIRCUITS ASSEMBLY attempts in all cases to use the calendar year, not company financial years. Again, differing methodologies explain variances with other rankings.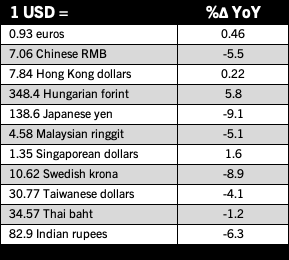 The Future
Predicting the EMS industry is more complex than it seems. Who among us, for instance, anticipated the meteoric rise of Luxshare? But much like Apple is the must-watch (no pun intended) entity on the hardware side, the EMS/ODM to stay locked on to is also the largest in its class: Foxconn. Last year, the company established the Hon Hai Research Institute to focus on key technologies in the next three to seven years. After R&D results are mature, they will be transferred to the business department for commercialization. Few of Foxconn's competitors are willing to underwrite this type of R&D (Jabil is one). Such forward-looking strategy coupled with ample capital reserves (and little to no pressure from shareholders) suggest that barring a geopolitical disaster, Foxconn will remain in the driver's seat for years to come.
Omissions
Every year there will be omissions, some intentional, some not. Some examples:
China Electronics Corp. The third-largest assembly operation in China, behind Foxconn and BYD. CEC, which owns Great Wall Computers and a moderate stake in TPV, among others, is also a thinly veiled subsidiary of the Chinese army.
Lens Technology. One of China's largest suppliers to the phone, computing and TFT markets, Lens is a highly vertically integrated $6.5 billion behemoth. It has electronics ODM capacity, but it is unclear how much of its revenue comes from that segment versus its glass materials and optical modules.
Diehl Controls. We have seen this German OEM of white goods and industrial electronics listed elsewhere. It says it produces around 50 million electronic units per year on a contract basis, and some lists indicate its revenues fall between those of Kitron and Neways, but we have no such insight.
iHPS. The EMS arm of Hytera Communications, it is likely over $500 million.
BOE Technology. Yet another Chinese company, with revenues over $30 billion, BOE both OEMs and private labels IoT devices, semiconductor displays, and various other components like sensors. Dissecting the integrated design and manufacturing services from the rest of the mix is not possible based on the information the company makes public.
ATA IMS Berhard. This Malaysian EMS lost its largest customer, Dyson, which made up 81% of its business. Revenue dropped by more than 50% from the first half to the second.
Lacroix Electronics. At $522 million in 2022, it misses the list. Add in the non-electronics revenue and it's a different story.
Katolec. Distribution revenue is 27% of its sales. EMS portion is $520 million.
TT Electronics. The conglomerate has OEM products, components, distribution and EMS. The latter was just under $400 million in 2022.
Computime, another OEM-EMS blend, generates about 70% of its revenue from contract assembly, putting its EMS sales at just under $400 million as well.
The author apologies for any oversights.

References
1. Sankalp Phartiyal, "Apple India iPhone Output Soars to $7 Billion in China Shift," Bloomberg, Apr. 13, 2023.
2. Anusuya Lahiri, "Apple Supplier Eyes Second India Factory to Assemble Latest iPhones," Reuters, Mar. 24, 2023.
3. Siladitya Ray, "iPhone Maker Foxconn Reportedly Expands in India Amid Claims Apple Wants To Bolster Manufacturing There," Forbes, Mar. 3, 2023.
4. Nivedita Bangari, "Wistron is Exiting India and Will Sell All its Factories in the Country," May 22, 2023.
5. Praveen Paramasivam, "Apple Supplier Salcomp Sees India Revenue of $2-$3 Billion, Plans Rapid Hiring," Reuters, Feb. 13, 2023.
6. P.R. Sanjai, "Reliance to Invest $221 Million to Make Electronics With Sanmina," Bloomberg, Mar. 2, 2022.
7. Mike Buetow, "VVDN Goes Vertical," PCD&F/CIRCUITS ASSEMBLY, May 2023.
8. Opalyn Mok, "Zahid: Malaysia Eyes 15pc Market Share in Semiconductor, Electronics Sector by 2030," Malay Mail, May 23, 2023.
Mike Buetow is president of PCEA (pcea.net); mike@pcea.net.