Electronics Supply Chain Coming into Balance in H2, Says Supplyframe
PASADENA, CA – Lead times and prices are expected to drop toward historical norms in the second quarter, while inventory reductions and corrections will continue into the second half of the year, according to the latest analysis from Supplyframe.
Consumer markets remain lethargic, but automotive and industrial segments are relatively robust. And macroeconomic shifts will have massive repercussions for the global electronics supply chain – with a demand rebound for PCs, smartphones, and data centers required to drive new growth.
"Despite global economic challenges and uncertainties, [our data] show that commodity supply-demand rebalancing is well underway," said Supplyframe CEO and founder Steve Flagg. "Some electronics commodities and end markets have shown initial signs of recovery through Q1."
Global electronic component sourcing activity rose 3.6% quarter-on-quarter, led by fiber optic component demand, which increased 22.1% and offered signals for potential demand rebounds, according to Supplyframe.
In the second half of 2023, just 4% of all semiconductor lead time dimensions (excluding memory) will expand, while 35% will decline. However, to a lesser degree, lead times for certain devices – including power MOSFETs and some automotive-grade ICs – will remain extended. At-volume passive components under 12-week lead times for the second quarter more than doubled, the latest data from Supplyframe reveals. The number of quoted lead times beyond 52 weeks was halved.
Just 1% of pricing dimensions are projected to increase, and over half will be stable across all electronic commodities in the second half of 2023. But average selling prices for global DRAM are eroding and will continue to slide into the third quarter. Yet spot prices for DDR4 are stabilizing, reinforcing Supplyframe's forecast that DRAM recovery is set for the fourth quarter. Additional flexibility in price and availability exists across many materials commodities and sub-commodities, including resins and metals, Supplyframe added.
"Supplyframe forecasts a markedly more balanced electronics supply chain in the second half and expects component inventories to be largely digested into the third quarter," said Richard Barnett, chief marketing officer and SaaS sales leader at Supplyframe. "However, industries sharply cut factory utilization to adjust to weakened demand. Some manufacturers and distributors need to rebalance inventory positions, and macroeconomic uncertainty still lingers."
Interest rate increases across the globe, the spreading banking crisis, and a new report from the World Economic Forum predicting that the global labor market will lose 14 million jobs over the next five years could send the US and other world economies into sharp downturns.
Conversely, news from the US Census Bureau revealed that new orders for nondefense durable goods outgrew previous estimates. New orders for US electronics surged year-over-year through March by 8.4%, and global job numbers have been solid to date, indicating that the US and other economies may be poised for a soft landing – or avoid a downturn entirely.
"Economic conditions are at a tipping point, with ongoing debate regarding the timing, severity, and certainty of a global recession in 2023," said Flagg. "If conditions and sentiment improve, demand will rebound. And rebounds could possibly lead to the return of constraints for certain electronics commodities as manufacturers ramp capacity."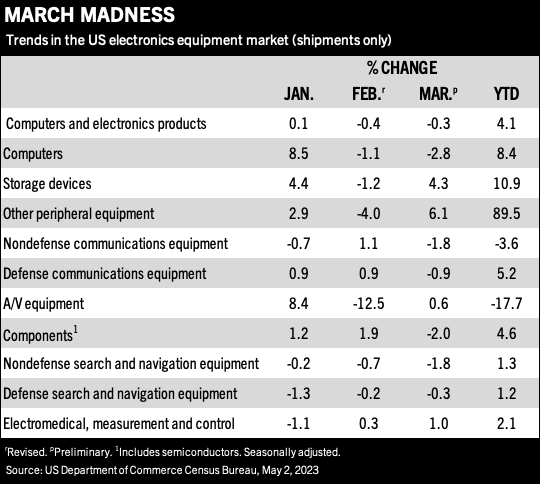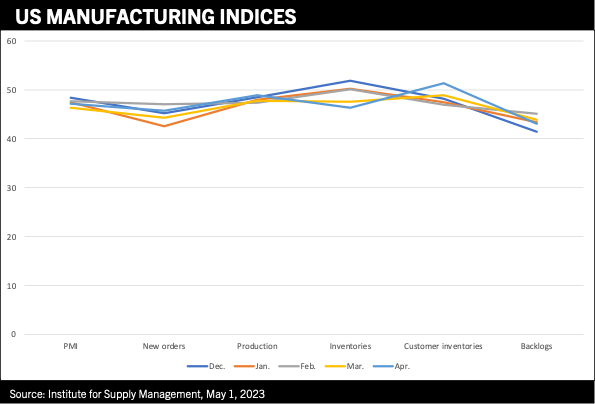 Hot Takes
EMS M&A activity saw a slight year-over-year increase in the first quarter, with 10 transactions recorded, versus nine a year ago. Six involved consolidations. (Lincoln International)
China's AI market will exceed $26 billion by 2026, with hardware making up 56% of the market. (IDC)
Technology supply chains show an average increase of about 27% in total inventory levels from 2019 to 2022. (Kearney)
The ABF substrate market segment is expected to rebound in 2024, buoyed by rising demand for AI servers. (DigiTimes)
Production cuts to DRAM and NAND flash have not kept pace with weakening demand, and DRAM average selling prices are projected to fall 13 to 18% this quarter, while NAND flash is expected to fall 8 to 13%. (TrendForce)
Global notebook shipments performed better than originally expected in the first quarter of 2023, and the volumes will grow back 9% sequentially in the second quarter. (DigiTimes Research)
Some 54% of respondents in an April survey said labor and material costs are rising, but the number of companies experiencing rising costs continues to decline. (IPC)
Electric vehicles, charging stations, renewable energy, fast charging for mobile devices, and power suppliers are driving demand for legacy packages such as TOs and power modules for SiC and DFNs and QFNs for GaN. (TechSearch International)
North American EMS company shipments rose 14.3% in April from a year ago, and 5.5% sequentially. Bookings decreased 6.1% year-over-year and fell 1.2% from March. (IPC)
North American PCB shipments rose 12.1% year-over-year in April and fell 18.4% sequentially. (IPC)