PCD&F
Altair SimSolid Cloud Sim Tool
SimSolid Cloud structural simulation software allows access to simulation technology from any web browser anywhere, anytime. Eliminates geometry simplification and meshing, the two most time-consuming and expertise-intensive tasks done in traditional finite element analysis, and is said to deliver results in seconds to minutes while handling complex assemblies. Requires no software installation or extensive computing resources, and offers structural linear and nonlinear static, modal vibration, and thermal stress analyses in user's preferred web browser. Features include mesh-free technology and full-fidelity CAD simulation, comprehensive physics support, adaptive solver technology, automated model connections, results in seconds, intuitive, user-friendly interface, and extensive material library.
Altair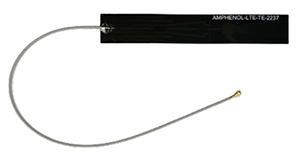 Amphenol RF Internal Antennas
Flexible and PCB patch antennas are for use inside connected devices and feature either a flexible pad or rigid PCB which can be mounted inside the device. Come in dual-band, multi-band and wide-band configurations with Wi-Fi 6E supported options with reliable frequency range up to 7.2GHz. Dipole design has a relatively low profile and can be mounted in various locations and supports standard cellular protocols, which makes them suited for IoT, Wi-Fi and LTE technology. Use center-fed micro-coax cables that terminate to an ultraminiature AMC connector and feature an adhesive mounting tape on one side for secure placement inside the device.
Amphenol RF
Flux Copilot Design Assistant/PCB Design Tool
Copilot AI-powered hardware design assistant is integrated into a PCB design tool. Understands schematic designs, component lists, connections, and part information from datasheets. Flux-trained large language model (LLM) resides within a project, providing an array of functionalities to assist engineers in the design process. Can be queried through comments or chat, offering a convenient and intuitive way to interact with the AI-powered assistant. Aids part selection, evaluates compatibility, offers schematic feedback, and performs design analysis. Can suggest alternative components with similar specifications, validate calculations for accuracy, and provide insights on component limits to ensure a robust design. Can generate new ideas and explore design options based on project goals, constraints, and specifications. Can generate a bill of materials (BoM) for a target project, providing a comprehensive list of components and their quantities required for the design. Can be used to brainstorm new concepts, evaluate alternative approaches, and optimize designs for performance, cost and manufacturability. Integration into the PCB design tool allows seamless collaboration between engineers and the AI assistant. ‍
Flux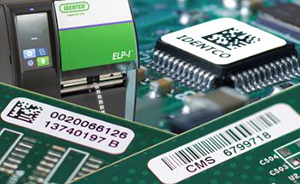 Identco TT413 PCB Labels
TT413 series of labels is designed to withstand prolonged, repeated exposure to the chemicals and high temperatures typical to post-production washing processes. Features a 2.4mil gloss white polyimide that provides ultra-durable resistance against smudges, solvent, heat, and abrasion, and serves as a receptive surface for a variety of thermal transfer ribbons. Also features a 2.0mil ultra-aggressive permanent acrylic adhesive that offers excellent resistance to harsh chemicals and high temperatures. Peel adhesion strength is 40oz./in. or higher for both stainless steel and PCB, and at 24 hrs. boasts dwell strengths of 43oz./in. for epoxy and 55oz./in. for stainless steel. Is said to be suited to a wide array of electronics components manufacturing environments, including box builds, internal and external vehicle parts (such as in-cabin infotainment systems and outside sensors), and various other computer unit and PCB assembly settings.
Identco
LogicSwap eCADStar Migration Software
Free data conversion package to transfer third-party PCB design data to Zuken's eCADStar format. Enables eCADStar users to utilize Altium Designer library, schematic, and PCB design data for design, analysis, and manufacturing within the eCADStar toolset.
LogicSwap Solutions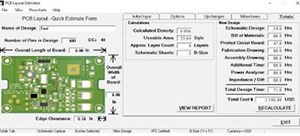 Oztronics 53000 PCB Layout Estimator
53000 layout tool is designed to estimate the time required for creating PCB layouts. Can estimate the number of hours to create the PCB after an initial input consisting of number of the pins, x dimension, y dimension, and edge clearance. Other time variables can also be estimated and accounted for in the design such as bill of materials, schematic capture, fabrication drawing, assembly drawing and additional time. Results can be written to a report that can be sent to the client or manager for approval prior to starting the work.
Oztronics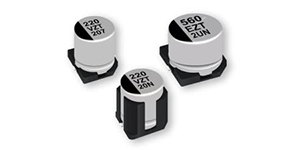 Panasonic ZTU Series Capacitors
ZTU series of hybrid aluminum capacitors is AEC-Q200 qualified, and offers exceptional reliability and ruggedness for any demanding application. Available with a rated voltage 25V~35VDC/220 560µF and an increase of 80% in ripple current capability in comparison to the ZC series, and has been proven for 4000 hrs. at 125°C and 135°C, making it ideal for applications needing high temperature tolerance and high current capability. Vibration tolerance of 10G, but also comes in vibration-proof version able to handle shocks of up to 30G in 8mm and 10mm diameter versions.
Panasonic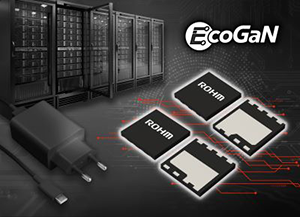 Rohm 650V GaN HEMTs
GNP1070TC-Z and GNP1150TCA-Z are 650V GaN (gallium nitride) HEMTs optimized for a range of power supply systems applications. Are said to deliver industry-leading performance in terms of RDS(ON) × Ciss / RDS(ON) × Coss, a figure of merit for GaN HEMTs, translating to higher efficiency in power supply systems. Built-in ESD protection element improves electrostatic breakdown resistance up to 3.5kV, leading to higher application reliability, and high-speed switching characteristics also contribute to greater miniaturization of peripheral components.
Rohm Semiconductor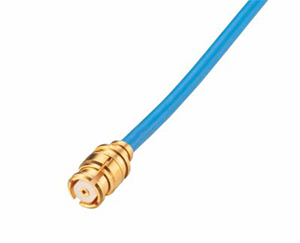 Times Microwave Systems TF-047 Micro-coaxial Cable
TF-047 is compact and flexible for easy routing in space-constrained areas, with an overall diameter of 0.055in/1.40mm, and can support bends as tight as 0.20in/5.08mm. Is optimized to perform from DC to 50GHz, and is available with a variety of push-on and threaded connectors. Is for board-to-board, backplane and crossover box-box/inside-the-box connectivity, as well as for bench/production tests, troubleshooting setup, signal fanout and ATE in semiconductor manufacturing.
Times Microwave Systems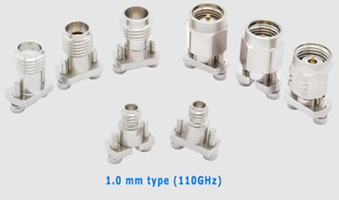 Withwave Vertical Launch Connectors
Vertical Launch Connectors are designed for solderless vertical PCB launch on test and measurement boards. Feature DC to 26.5GHz (SMA), 40GHz (2.92mm), 50GHz (2.4mm), 67GHz (1.85mm) and 110GHz (1.0mm). Also feature excellent vertical transition performance (VSWR <1.3, 1.85 and 1.0mm type : VSWR <1.6), and easy and solderless installation on designed substrate.
Withwave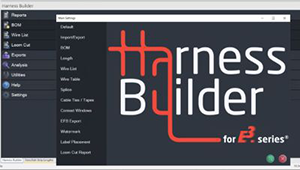 Zuken Harness Builder 2023
Harness Builder 2023 for E3.series features a complete graphical overhaul, giving the tool a modern feel and making it easier to understand and use. Includes an improved window configuration with an added structure to the window tabs, making navigating detailed sections such as reports, exports, analysis, and utility tools easier. User interface also groups core settings in one location under the main Harness Builder window, making finding and keeping consistent report data more manageable. Interface now allows choice of the export options for the plug-in.
Also includes ability to apply automatic watermarks for shareable harness drawings, with option to refine controls such as the number of watermarks to add, rotation, placement, and other text properties. Features a refresh for the method of adding documentation for splices, allowing ability to quickly place the on-sheet splice documentation for multiple splices using the new splice context menu options. Selecting several splices and then running the command through the Harness Builder context menu will have the tables appear individually, ready to insert into the documentation. Adds ability to define how to identify a wire harness based on attributes, a drawing sheet, the complete project, or bringing together an entire assembly through structure nodes, and reports and exports can then apply and use the wire harness name and version for release tracking. Also features improved handling of twisted wire length calculations for detailed reports, and considers factors relating to the number of twists and material composition to ensure that length calculations are accurate, preventing short wires during wire cutting that can lead to rework and waste. Adds a harness braiding cost and weight estimator that provides a precise estimate of the cost and weight of material for the braiding machines, and has a new export option to nVent PWA6000 for wire processing.
Zuken

CA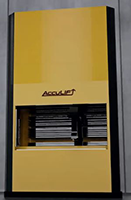 Accu-Assembly AccuLiFT Reel Storage
AccuLiFT SMT component reel vertical modular storage and retrieval system features a flexible reel configuration that enables small and large reels to be interchanged at any position on the pallet. Can store up to 3,900 7″ reels, with the ability to store up to 8,400 reels with two additional vertical storage units. Stores component reels on pallets constructed of a steel frame with ESD plastic trays. Vertical lift stores and retrieves parts, and expands vertically to conserve floor space. Uses Direct Drive Technology with auto correction requiring no calibration. Features a robotic, automated, dual-level operator reel loading/unloading station, allowing reel loading and unloading to take place simultaneously to reduce cycle time. Also includes automatic barcode scanning of all reels on the pallet, automatic reel thickness detection, and multiple job sorting capability. Optional features include the ability to print and place UID label on component reels and interface to x-ray component counters.
Accu-Assembly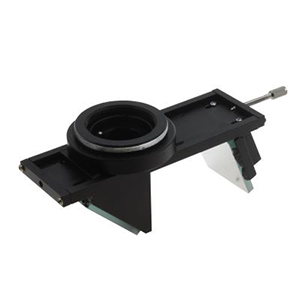 Aven MicroVue 360 Viewer Attachment
MicroVue 360 Viewer Attachment is designed for use with the line of MicroVue Digital Microscopes and offers a range of benefits for users who require enhanced precision and comfort during their work. Features a 35° angled mirror for looking around multilayered parts such as circuit boards, medical tools, industrial parts, and more. Also includes 360° rotation capability, for easy adjustment of viewing angle to achieve perfect line of sight.
Aven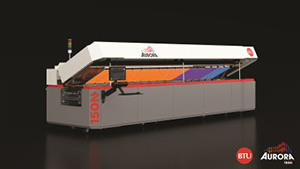 BTU Aurora Reflow Oven
Aurora reflow oven platform features a modern, fully updated user interface, integrated Aqua Scrub flux management technology, Smart Power energy savings software, and advanced process control technologies. Features the industry's first factory configurable heating and cooling architecture providing the flexibility to customize oven for specific product/process characteristics including very heavy boards, slow cooling requirements, or increased throughput. Also features closed-loop convection control technology that has been shown to maintain thermal performance even at significantly increased belt speeds, providing greater productivity, efficiency and throughput.
BTU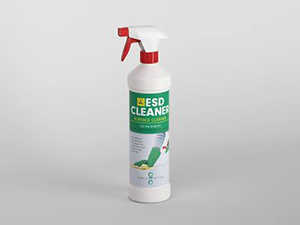 Emil Otto ESD Cleaning Products
EO-RA-ESD/01 and EO-RA-ESD/02 are for cleaning conductive surfaces and floors, especially for the ESD area. EO-RA-ESD/01 removes grease and lubricant films or other stubborn contaminations that occur in production. Is compatible with common plastics and is gentle on sensitive plastic surfaces while also for use on coated or painted surfaces. EO-RA-ESD/02 is a concentrate developed for daily use on damp mopping floors. For manual cleaning and mechanical use on conductive floors. Is compatible with common floor coverings such as PVC, linoleum, artificial and natural stone.
Emil Otto
Ersa i-Con Mark 2 Soldering Stations
i-Con Mark 2 soldering station series features soldering tip technology from the IoT soldering station i- Con Trace with fast heat-up and reheat characteristics and a precise temperature control of +/-2°C. Also offers up to 20% more soldering power and is 30g and 150mm long, fitting easily in the hand. Features bayonet lock, which keeps heating element intact and in place when tip is changed. Handle remains comfortably cool during continuous operation and recovers in time for all solder joints to be made with virtually the same temperature. Sensor measures actual tip temperature very close to tip extremity and signals operator if temperature leaves preset process window.
Ersa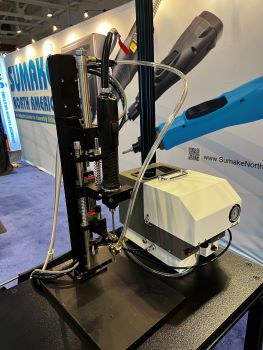 Express Assembly BT-001 Screw Feeder
BT-001 semiautomatic benchtop machine automates screw feeder systems. Holds screwdriver and automatically lines up with the part, eliminating need for an operator to hold the driver. Automates screw fastening process, works with all Sumake electrical screwdrivers and transducer screwdrivers and is adjustable to any torque application. Also integrates with screw feeder systems for even more automation and is adaptable for multiple screwdrivers on a common benchtop.
Express Assembly
Henkel Loctite Ablestik ABP 8068TI Adhesive
Loctite Ablestik ABP 8068TI is an ultra-high thermal conductivity pressure-less sintering die attach adhesive that meets automotive grade reliability standards. Features 165 W/m-K thermal conductivity, meeting performance requirements for high-reliability automotive and industrial power discrete semiconductor devices. Meets multiple metrics for power semiconductors like MOSFETs, and is compatible with traditional Si and newer wide-bandgap semiconductors, among other power discrete devices. Is said to demonstrate excellent sintering properties with good adhesion on copper, pre-plated (PPF), silver, and gold lead frames, robust electrical conductivity and stable RDS(on) after 1,000 hrs. of thermal cycling, and MSL 3 reliability. Is recommended for dies measuring 3mm x 3mm or smaller, and fully cures at 175° C or above to form a rigid sintered Ag network in the bulk epoxy and at the interface. Does not require high pressure to achieve structure, and features workability at three hours of void-free open time and 24 hrs. of stage time with no degradation in shear strength.
Henkel
Indium Indalloy 303 Reflow Alloy
Indalloy 303 is a bismuth-based alloy developed for low-temperature reflow processes. Features reflow temperature as low as 170℃, excellent thermal cycling performance, resistance to hot tearing, compatibility with SAC in hybrid BGA joints, and low voiding. Its flux vehicle, Indium5.7LT-1, delivers superior print transfer efficiency; clear post-reflow flux residue; solder bead and solder ball minimization; exceptional wetting on OSP, immersion Ag, immersion Sn, and ENIG; excellent coalescence of small deposits; and outstanding SIR performance under challenging low-temperature reflow conditions.
Indium Corp.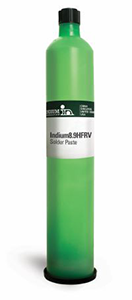 Indium 8.9HFRV Solder Paste
Indium8.9HFRV air reflow, no-clean solder improves voiding performance of next-generation Pb-free high reliability alloys. Offers low voiding when used with high-reliability alloys, high transfer efficiency through small apertures (≤0.66AR), excellent wetting, superior response-to-pause performance, and compatibility with air and N2 reflow environments. Can be used for high-reliability alloys, and is also fully compatible with standard SAC alloy systems.
Indium Corp.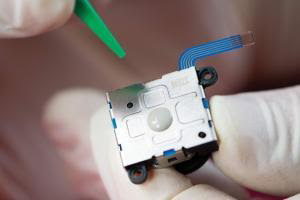 Master Bond EP17HTDA-2 Epoxy
EP17HTDA-2 is a one-component epoxy for bonding, sealing and die attachment. Is not premixed and frozen, and cures with heat. Features excellent mechanical properties with both a high modulus and die shear strength, and transfers heat and resists thermomechanical stresses effectively. Has exceptional temperature resistance, with a service temperature range of -80°F to +600°F [-62°C to +316°C] and Tg of 185°-190°C. Features thermal conductivity of 9-10BTU•in/ft2•hr•°F [1.30-1.44W/(m·K)], a low CTE, and is also electrically insulative with a volume resistivity greater than 1015ohm-cm. Withstands a variety of chemicals including acids, bases, salts, fuels, oils, water and many solvents. Does not require any mixing and is curable in the temperature range of 300°-350°F for around 4-5 hrs. To optimize properties, a post cure of 2-3 hrs. at 400°F is recommended. Bonds to a variety of substrates, such as metals, ceramics, plastics and composites. Upon curing, delivers a tensile modulus exceeding 1,100,000psi and a die shear strength of 20-23kg-f at room temperature (2 x 2mm [80 x 80mil]). Minimal shrinkage upon curing.
Master Bond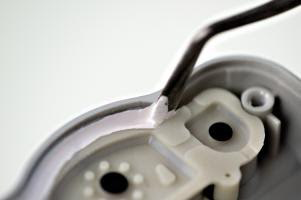 Master Bond EP5LTE-100 Epoxy
EP5LTE-100 is a one part, non-premixed and frozen epoxy with a very low CTE, high Tg, and extremely high modulus. Features a thixotropic paste consistency making it ideal for bonding, sealing and gap filling applications, and is ideal for optoelectronics or applications needing high dimensional stability and good heat resistance. Passes NASA low outgassing specifications and provides a tensile modulus that exceeds 1 million psi at room temperature. Minimal shrinkage upon cure combined with a low CTE of 8-12 x 10-6 in/in/°C enables precise alignment for bonding dissimilar substrates with low coefficients of thermal expansion. With a Tg between 120°-125°C, and a service temperature range from -60° to +175°C, is effective in high temperature environments. Is a reliable electrical insulator featuring a volume resistivity of more than 1014 ohm-cm. Bonds well to a variety of substrates including metals, glass, composites, ceramics and many plastics, and has good resistance to water and damp heat. Unlimited working life at room temperature and requires heat cure at 100°C for 90-120 min. Optimum properties are obtained by post curing for 2-3 hrs. at 100°-125°C. Comes in syringes, jars and cans.
Master Bond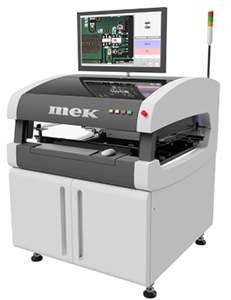 Mek iSpector AOI
iSpector inline AOI is an entry-level system for low-volume, high-mix production. Utilizes DOAL, main and side LED light sources from three different angles, creating a meniscus profiling light pattern that allows for the inspection of component bodies and solder joints. Is equipped with Mek Colour Histogram analysis, which provides accurate and reliable inspection results with low false calls. Easy to install, and novel online training program is said to make it exceptionally easy to program. Clean and simple UI with powerful features, including full programming capabilities for solder inspection, component presence/absence, polarity, and value. Z-axis allows inspection of taller components and hybrid PCBs, and users can import NC data from pick-and-place or most popular CAD/CAM software while also taking advantage of Mek's custom libraries. Fully compatible with Mek's Catch System, which offers full traceability and I-4.0 readiness, and is fully scalable from single AOI stations to multiple machines.
Marantz Electronics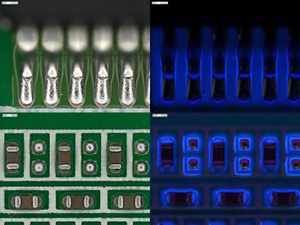 Shenmao PF629-P214UV Solder Paste
PF629-P214UV UV-visible lead-free no-clean solder paste is for a range of applications, from consumer electronics to automotive and aerospace components. UV-visible feature allows easy and accurate quality control inspection during production and ensures product is used correctly and reliably. Flux residue after reflow process can be easily identified by UV light. Is said to offer superior solderability and printability performance, has excellent wetting ability and forms strong, smooth and shiny solder joints.
Shenmao
Titan Tool Supply ZMM-1 Microscope
ZMM-1 industrial inspection monocular zoom microscope provides reliable, accurate, real-time quality control and remote visual inspection capabilities across a full production cycle. Features a 1:4 zoom ratio and offers constant focal length, highly favorable depth of field, a large field of view at 15X magnification, plus a higher magnification with smaller field of view at 60X as standard. Optional extra 20X eyepiece performs reliable and accurate remote visual inspections of a workpiece over an expanded magnification of up to 120X – without need for a change of lens. Operable in either vertical or horizontal position and comes mounted on desktop pillar stand, with further optional extended rod lengths.
Titan Tool Supply

TRI TR7700 SIII Ultra CI AOI
TR7700 SIII Ultra CI detects coating issues, measures coating thickness, and inspects dispensed flux and glue. Precisely measures coating thickness from critical areas on the PCB, detecting unwanted coating spills near PCB connectors, sensitive components, and designated mounting holes. Can identify common coating issues, including cracks, bubbles/voids, insufficient/excess coating, and loss of adhesion, with algorithms calculating maximum/minimum coating coverage length and measuring coating length, splash or insufficient coating. Coating thickness measurement range is from 35µm to 750µm.
Test Research, Inc.
ViTrox Smart Reel Changer 2.0
Smart Reel Changer 2.0 for TR3000i Inspection Handler is designed to improve throughput and reduce operator dependency. Automates loading and unloading output of up to 10 reels without presence of operators, eliminating need for manual transfer and intervention. Designed to take up less space on the production line and is easy to integrate into TR3000i.
ViTrox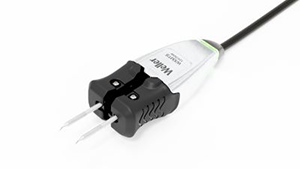 Weller WXsmart Tweezers
WXsmart Tweezers meet all state-of-the-art soldering and desoldering requirements, from miniaturization to heavy duty applications, as well as traceability and connectivity needs. Feature color lighting for fast tool identification and offers fast and precise toolless tip change. Also feature fast heat-up and reaction times, integrated chip to control the workflow and make adjustments possible, and optimized handle ergonomics to provide support for repetitive, identical work processes.
Weller Tools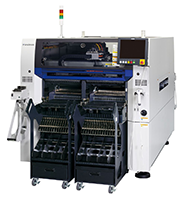 Yamaha YRM20DL SMT Mounter
YRM20DL surface mounter is a dual-lane version of the YRM20. Accommodates various dual-lane production methods. In a wide range of SMT production lines, from high-volume production to high-mix production, it significantly reduces transfer loss and other losses, and improves productivity. By revising the layout in the machine and further optimizing the motion control of the x-y axis, it achieves 120,000cph. In addition, high-accuracy mounting of +/-15µm (Cpk>=1.0) is achieved by improving the rigidity of the newly developed conveyor and the mount position compensation function. In dual-lane production mode, the maximum board width is 12.9″ (330mm) when boards of the same width are conveyed in two lanes. In single-lane production mode, where only one lane is used, can transfer boards up to 31.8″ (810mm) in length, 24.0″ (610mm) in width, 6.6lb (3kg) in transportable weight, and 0.25″ (6.5mm) in maximum board thickness. The laser unit's board height measurement and low static load nozzle reduce stress on tiny components during mounting.
Yamaha Motor IM