CIRCUITS ASSEMBLY Opens Registration for 2023 Service Excellence Awards
PEACHTREE CITY, GA – CIRCUITS ASSEMBLY has opened registration for its annual Service Excellence Awards (SEAs) for EMS providers and electronics assembly equipment, material, service, and software suppliers.
Now in its 31st year, the SEAs honor companies for excelling in the critical area of customer service, permitting participants to benchmark customer service against their peers. It is the only industry awards program that uses direct customer feedback to determine best-in-class.
The deadline to enter is Mar. 15.
Customers are surveyed to determine their satisfaction with a participating company in various categories, including dependability/timely delivery; manufacturing quality; responsiveness to requests and changes; technology; value for the price; and flexibility/ease of doing business. For each EMS category, the overall best-in-show winner is selected. All customer responses and ratings are tabulated and provided in a confidential report to the participating company. The SEAs recognize four categories of EMS providers based on revenues (under $20 million; $20 million to $100 million; $101 million to $500 million, and over $500 million).
Equipment, material or software supplier awards will be presented in each of the following categories: component storage systems; automation and handling equipment; cleaning processing or materials; device programming equipment; dispensing; pick-and-place; repair and rework; screen printing; test and inspection; materials (solder, encapsulants and adhesives); soldering equipment; automation/manufacturing software; and supply-chain/ERP/MRP software.
Non-manufacturing service providers will be honored in the following categories: test laboratories; recycling, cleaning or other non-manufacturing process providers; and design service bureaus. Reps or agents and/or distributors will also be honored.
CIRCUITS ASSEMBLY will honor winners in person at SMTA International on Oct. 11 at the Minneapolis Convention Center in Minneapolis, MN. Participants will receive their report as an Excel file after the show.
"Datest offers testing, engineering, analytical, and other value-added services, all geared to speed, flexibility, and results. We need a mechanism for obtaining meaningful feedback from customers on a regular basis. We also share that feedback with our AS9100 auditor. The CIRCUITS ASSEMBLY Service Excellence Awards are ideal for capturing those honest reactions that make us a better company," said Robert Boguski, president, Datest.
For more information, click here.
To register, click here.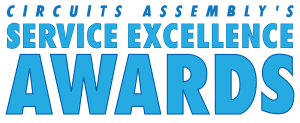 TTM Technologies to Close 3 Manufacturing Facilities
SANTA ANA, CA – TTM Technologies announced in February that it will close three PCB manufacturing operations in Anaheim and Santa Clara, CA, and Hong Kong, and plans to consolidate the business from these sites into its remaining facilities.
TTM said it expects to close the three sites over the course of this year, and while some employees will be transferred to nearby facilities, the company said it expects a total reduction of approximately 750 employees, or around 5% of its global workforce.
The company said it expects to see between $22 million and $28 million in separation, asset impairment and disposal costs related to the closures, and projects an annual profit increase of around $22 million to $27 million after the facilities are closed and operations are consolidated within its remaining footprint.
"Although demand for our Aerospace & Defense business remains very strong, current macro-economic conditions are causing a softening of demand for our commercial business. This has necessitated the need for us to streamline our manufacturing operations," said Tom Edman, president and CEO of TTM Technologies. "We expect the action plans that we are announcing today will allow us to better serve our customers with more focused operations as well as a lower cost structure. We will be working with our customers to transfer their business to other facilities in our footprint.
"These are extremely difficult decisions, and we realize these actions will likely have a significant impact on the lives of our dedicated employees at the Anaheim, Santa Clara, and Hong Kong locations. We will work with our employees to assist them through this transition," he said.

Icape Group Ends Operations in Russia
FONTENAY-AUX-ROSES, FRANCE — PCB supplier Icape Group announced it is ending its operations in Russia.
In a statement released by the company, Icape said it had decided to terminate its Russian operations and stopped taking orders on Jan. 1. Negotiations on the condition and exit of the company's assets are underway and should be concluded as soon as possible, and the withdrawal from Russia should not have a significant impact on revenue and results, the company said.

MKS Instruments Investigating Ransomware Attack
ANDOVER, MA – MKS Instruments is investigating a ransomware attack that occurred in early February and affected its production-related systems.
In a filing to the SEC, the company said it had temporarily suspended operations at some of its facilities as part of the effort to contain the attack. MKS said it is working to complete its investigation and restore the company's systems and impacted operations as quickly as possible, and the full scope of the costs and impact from the attack is not yet known.

Camelot Electronics Tech Plans $340M Expansion
QINGYUAN CITY, CHINA – Camelot Electronics Technology plans to invest around $339 million to expand its printed circuit board fabrication operations.
The fabricator, whose clients include Huawei, ZTE, Siemens, Honeywell and ABB, mainly focuses on the automotive PCB market. Its products are used in Tesla, BMW, Audi, Mercedes-Benz, NIO, Xiaopeng, Volkswagen, Toyota, Chrysler, Nissan, Peugeot-Citroen, Hyundai, Yutong, Geely and other automotive brands.
Camelot has two production bases in Qingyuan and Anlu, Hubei Province, and plans to form PCB production capacity of 5.2 million sq. m. per year. The production base in Qingyuan is 40,000 sq. m. with a production capacity of 1.2 million sq. m. per year. The Anlu site is 261,000 sq. m. and has an annual production capacity of 4 million sq. m. HDI (high-density interconnection) and rigid-flex PCBs.

ECIA GIPC Publishes Report on Paperless Certificate of Compliance Initiative
ATLANTA – The Electronic Components Industry Association's Global Industry Practices Committee (GIPC) in February published a report outlining the results of a two-year initiative to create a streamlined process to digitally exchange manufacturer Certificate of Compliance documents. Analog Devices Inc. (ADI) agreed to participate in the pilot project with Digi-Key. They began with the manufacturers' certificate of compliance while considering other compliance documents. The report from this initiative is available to industry.
The process for the exchange of compliance documentation in the electronic component supply chain is cumbersome and inefficient as it is still largely done manually. Compliance documents are currently in paper form and must accompany the components when shipped from the manufacturer to the distributor and on through to the end-customer. This, says GIPC, drives unnecessary costs with manufacturers, distributors and customers in the form of time and effort spent locating and tracking paper documents and the actual costs of printing and handling them. Throughout the supply chain, those responsible for complying with these requirements are dissatisfied and frustrated with this inefficient process.
"In theory, this should be low-hanging fruit to save time, money, and trees by changing to digital communication," said Don Elario, vice president of industry practices, ECIA. "However, the benefits only accrue when component manufacturers and distributors decide to participate in the new process. This is why GIPC decided to take on this initiative and use their platform to bring the component industry together on this issue. Continued innovation is needed in this area."
To this end, in 2019 the GIPC organized an SME (Subject Matter Expert) Work Group consisting of two manufacturers and two distributors to explore ways to address this problem. The goal was to design an architecture to digitally transmit compliance documentation. Analog Devices and Digi-Key began work on a pilot program to determine precisely how to digitally transmit documents during component transactions from manufacturer to distributor to customer. The report outlines the status of the work and what remains to be done.

Artaflex Acquires Custom Rapid Solutions
TORONTO – EMS provider Artaflex has acquired Custom Rapid Solutions, a provider of quickturn PCB assemblies in the Toronto area.
"CRS has been manufacturing quickturn PCBs, as well as low- to medium-volume production, in the industrial segment since 2005 and has a reputation for delivering timely and quality service to its long-standing customer base," said Gerry Iuliano, EVP of business development, Artaflex. "When you couple the addition of five SMT lines from CRS and their focus around power, sustainable/renewable energy and the industrial automation markets with our focus on higher-volume PCB assembly, box build, systems integrations and test (SIT), our new combination will be offering the most comprehensive suite of services in the Southern Ontario region."
"With the ever-changing competitive landscape, combining with Artaflex at this stage of our growth will be of great benefit to all our stakeholders, both now and in the future," said CRS founding partner Edward Nova, who is staying on to lead CRS. "Artaflex and CRS have displayed the same vision and approach to business since our inception which was extremely important for us to find in an acquisition partner."
CRS will continue to operate as a standalone entity at its existing facilities in Vaughan, Ontario.

Guh Holdings Expands into EV Business
PENANG, MALAYSIA – In a move to broaden its revenue base, PCB maker Guh Holdings is expanding into the electric vehicle business with the recent acquisition of a 70% stake in Star Wheels Electronics, a company involved in the sales, distribution, manufacturing, assembly and repair of electric scooters, hoverboards and spare parts.
"Star Wheels generates RM2 million ($459,000) to RM3 million ($689,000) sales per annum. The company has nine sales outlets in the country and distributors in the Philippines and Australia," Guh managing director Datuk Seri Kenneth H'ng told StarBiz about the RM2.1 million ($483,000) transaction.
"For example, the e-scooter-sharing business in Malaysia is expected to hit RM29 million ($6.7 million) in 2023 and is projected to grow at an 18.9% compounded annual growth rate over the 2023-2027 period to reach RM58 million ($13.5 million) by 2027," he said. "In the e-scooter-sharing segment, the number of users is expected to amount to 1.1 million by 2027. User penetration is 1.9% in 2023 and is expected to hit 3.2% by 2027."
H'ng said the group's PCB business, its core activity, is still stable despite inflation and higher interest rates.
"Our PCBs are manufactured by international brand names and used in electrical and electronic household appliances, automobiles and medical fields. The forecast for our PCBs is still stable," he said.
Guh plans to invest RM10 million ($2.3 million) in EV and EV-related businesses, H'ng said.

StenTech Acquires Advanced Tooling Design
CLEVELAND – StenTech has acquired fellow stencil and fixture designer Advanced Tooling Design for an undisclosed amount.
ATD designs and manufactures stencils, tooling, fixtures and related accessories used in the electronics assembly industry, with applications across a range of end-markets. Headquartered in San Jose, ATD expands StenTech's facility footprint into California, the largest market for stencil and pallet manufacturing in the US.
"We were looking for a partner who shared our commitment to SMT manufacturing excellence," said Vicki Hamada, president and CEO, ATD. "A combination with StenTech will carry on ATD's rich legacy while ensuring our customers continue to benefit from our intense focus on customer service while gaining access to the expanded resources and facility footprint of the broader StenTech platform."
"This acquisition is an important strategic step forward in the growth and evolution of StenTech. I'm thrilled to be joining forces with the team at ATD," said Brent Nolan, president and CEO, StenTech.
StenTech is owned by Align Capital Partners, which acquired the stencil maker in May 2022. The transaction marks the first add-on for the company.
"We expect this to be the first of many growth opportunities for StenTech and we look forward to supporting the company through continued investments in technology, sales and operating resources," said ACP managing partner Chris Jones.

Niche Electronics Purchases L-Tronics
SHIPPENSBURG, PA – Niche Electronics, an electronics manufacturing services company based in south-central Pennsylvania, has announced the purchase of Waltham, MA-based L-Tronics. Terms were not disclosed.
Founded in 1990, L-Tronics manufactures printed circuit assemblies, wire harnesses, and OEM electrical mechanical devices. The integration of L-Tronics' 8,000 sq. ft. facility and 30 employees will equip Niche with redundant sites in three geographical locations, making it able to shift production in the event of service interruptions from machine outages, natural disasters, fires or other unforeseen circumstances, the company said in a release.
Niche Electronics crafts high-complexity circuit board assemblies for many industries, providing services from new product introduction to volume production. Niche has operated from its 20,000 sq. ft. headquarters in Pennsylvania since 1997, and its 21,000 sq. ft. facility in Sarasota, FL since 2016.
Niche CEO Frank Bowman said the completed integration will enable the company to handle increased demand for its services and provide personalized service to the entire East Coast and into the Midwest.
"This new addition represents the beginning of a more accelerated period of planned growth for us," he said. "We're excited about our increased presence in an industry whose own growth shows no sign of slowing."

Éolane Begins Operation of New Factory in China
SUZHOU – Éolane has opened a new 4,000 sq. m. factory here to serve its customers in the industrial, medical and rail sectors – particularly CRRC, a major Chinese rail company.
The company inaugurated the factory in November after seeing growth of more than 21% in 2022, and the expansion brings the total surface of its factories in China to 11,500 sq. m.
"The construction of our new production site in China demonstrates our ability to remain at the forefront of all technologies in order to provide the best quality of service to our customers, as close as possible to their needs. This new site validates the success and development of Éolane China, by reinforcing our production capacity, which will allow us to welcome a business volume of 50 million euros via new orders from our historical customers and the arrival of new customers," Éolane China managing director Grace-Lingjia Colin said in a release.

Bonfiglioli Acquires Selcom Group
BOLOGNA, ITALY – Bonfiglioli, a manufacturer of drive systems, gearboxes and inverters, has announced an agreement to acquire Selcom Group, an Italian producer of PCB assemblies.
Selcom employs around 750 employees across four production plants in Italy and two plants in Shanghai. The acquisition of Selcom Group is meant to strengthen Bonfiglioli's electronic core and will increase the company's development capacity, Bonfiglioli said in a release.
"We saw in Selcom an excellent opportunity for Bonfiglioli: it is a company with great electronic technical skills, both in terms of design and process, absolutely complementary to ours," said Bonfiglioli CEO Fausto Carboni. "Moreover, at a commercial level, it is an extremely dynamic and motivated company, rooted in Europe and China, two strategic markets where it serves numerous clients among the largest and most important in their sector. This is a strong testimony to the professionalism and competitiveness of the company."

Austin American Technology Merges with Aqua Klean
AUSTIN, TX – Austin American Technology and Aqua Klean Systems will merge, the companies said in a joint statement. Operations will continue at the firms' existing facilities in Austin and Anaheim, and all employees will be retained. Financial terms were not disclosed.
Austin-based AAT has developed equipment for printed circuit board cleaning, surface-mount technology, stencil and misprint, flip chip, BGA and other cleaning applications for more than 35 years. Founded in 1996, Anaheim-based Aqua Klean assembles cleaning systems for virtually any process.
Together, the companies serve clients ranging from small shops to the largest electric vehicle brands, and the medical device, military, space and other markets. The merger permits the companies to combine resources and expertise to offer superior cleaning equipment for their clients, the statement said.
"AAT and AKS both have the desire to develop and grow the best cleaning company in the industry," said Todd Rountree, president and COO, AAT. "This involves being on the cutting-edge of technological advancements, cleaning efficiencies and the sleekest designs. These, coupled with the best customer service, will position the merged company to lead our industry far into the future and provide the best resource for our customers. The timing could not have worked out better and we are all excited about the opportunities this merger has made available. With service and manufacturing in both California and Texas, we will have the farthest reach and depth of anyone in our field."
"We are thrilled to be joining forces with Austin American Technology," said Mike Schwager, president, Aqua Klean Systems. "Our companies share a commitment to delivering innovative and reliable cleaning solutions to our customers. We believe that the combination of our expertise will help us continue to grow and expand in the future. We look forward to working together and continuing to deliver the highest quality cleaning solutions with exceptional customer service."

Lorom Acquires Segue Manufacturing Services
TAIPEI – Lorom Holding Company, a manufacturing solutions provider focusing on specialized cable manufacturing and assembly, in February announced the acquisition of Segue Manufacturing Services. Terms of the acquisition were not disclosed.
Segue is a global contract manufacturer specializing in complex electromechanical integration, cable, and harness assembly and engineering services for the medical, industrial automation, capital equipment, and device OEM end-markets. The company has manufacturing operations in in Billerica, Massachusetts; Xiamen, China; and Monterrey, Mexico.
According to a release from Lorom, the transaction is meant to combine Segue's expertise in complex electromechanical and cable assembly with Lorom's experience in wire and cable manufacturing, while enabling Lorom to expand its manufacturing footprint in North America and build out its vertically integrated platform at a greater scale.
In October 2019, Lorom received an investment from Cornell Capital, a private equity firm based in New York and Hong Kong, to accelerate the company's continued growth across Asia, Europe and North America and strengthen its financial performance.
"We are pleased to welcome Segue to the Lorom family and look forward to supporting its future growth," said Joyce Hsu, chairperson of Lorom and chair of Asia at Cornell Capital. "Segue's expertise in complex electromechanical and cable assembly is the ideal complement to our proficiency in wire and cable manufacturing. Lorom will help us deliver an enhanced customer experience and broader reach with its leading position and exceptional reputation for quality within the North American marketplace."
"This strategic transaction provides Segue with multiple growth opportunities, including additional manufacturing capacities on an international scale and the ability to leverage additional engineering support," said Brian Desmarais, chief executive officer of Segue. "With Lorom's specialized expertise in wire harness, interconnect solutions, and cable manufacturing, Segue's customers will benefit from our enhanced vertical integration capabilities. On the heels of our 30th anniversary, we couldn't be more excited about the future of Segue."

Icape Acquires Fimor Electronics
FONTENAY-AUX-ROSES, FRANCE – Icape Group in February acquired Fimor Electronics, a French manufacturer of human-machine interface solutions and distributor of custom-made technical parts.
Fimor Electronics specializes in the trading of custom-made technical parts, an activity that represents 80% of its revenue, and also owns a factory specializing in the manufacture of human-machine interface solutions, which is the company's second activity and generates 20% of its annual revenue. The company has a portfolio of 350 customers, mainly in the medical, automotive, high-tech and telecommunications sectors. The company also includes a service office in Foshan, China, in charge of commercial and technical relations with about 10 suppliers at the local level. In 2021, Fimor Electronics generated a net annual revenue of more than €6.2 million ($6.6 million) and EBITDA of €600,000 ($642,000).
In a press release, Icape said the acquisition of Fimor Electronics will consolidate its market position of "custom-made" electromechanical parts and enrich the product offerings of its custom-made parts shop, Cipem. Through the acquisition, Icape Group expects to benefit from the existing sales and supply chain synergies with Fimor to reinforce its growth in the technical parts market, which represents nearly 20% of its current annual revenue. Icape is also setting up a new factory in Europe, which will be dedicated to local production for high value-added industrial sectors.
"Fimor Electronics is a very promising company. The team developed a business model, a factory, and a reputation based on excellence and seriousness in France to achieve their objectives and secure a solid customer base," said Cyril Calvignac, CEO, Icape Group. "Icape Group is developing its production network after the acquisition of Trax in South Africa, and MMAB in Sweden, two printed circuit board factories. We are confident that this new acquisition will be a perfect addition to offer the highest quality of services to both Fimor Electronics and Icape Group's customers, and increase the footprint of our companies in France and the border countries. It's also important for us to support and offer a local production solution."
"I am sure that Fimor Electronics and its customers will benefit from this international presence," said Manuel Zuckerman, CEO, Fimor Electronics. "Cipem professionals will bring added expertise, a larger product portfolio, and the energy of a highly motivated team. Fimor Electronics associates are very enthusiastic about joining Icape Group and looking forward to unleashing their potential."

Foxconn Secures Manufacturing Site in Vietnam
TAIPEI – Foxconn has signed a $62.5 million lease with Saigon-Bac Giang Industrial Park Corp in Vietnam to build a new manufacturing facility.
The move to secure a new manufacturing site comes after the Apple supplier's iPhone plant in Zhengzhou, China, saw an exodus of tens of thousands of employees and violent worker protests amid stringent pandemic control measures imposed during a Covid-19 outbreak that began in late October.
The Vietnamese site, located in the Bac Giang province east of Hanoi, was rented through Foxconn's subsidiary Fulian Precision Technology Component Co. The lease will run through February 2057, the company said.
Foxconn previously announced that it will relocate some of its MacBook production to Vietnam, and has also announced plans to quadruple the workforce at its iPhone plant in India over the next two years.