TPCA Advises Caution for Global PCB Outlook in 2023
TAIPEI – After growing 3.2% to $88.2 billion, negative factors like geopolitics, high inflation and high inventories will likely dampen the global PCB industry for at least the first half of 2023, according to the Taiwan Printed Circuit Association.
Continued chip supply uncertainty meant IC substrates became the counter to negative factors and even the engine for growth in Taiwan, Japan and South Korea. Strong demand from high-performance computing and further upgrades to end-user product specifications all factored in the global PCB market outperforming end-user sales. PCB makers such as Ibiden, Shinko, SEMCO and LG-Innotek saw chip carrier sales account for over 90% of their PCB business, meaning carriers accounted for almost all growth by Japanese and South Korean peers. On the other hand, Chinese companies that once enjoyed rapid growth all experienced a noticeable slowdown in gross profit margins and net profits due to their focus on other products.
Chip carriers were not immune to the economic downturn in the second half of 2022, however. For example, BT carriers targeted at consumer products saw growth slow in the fourth quarter. ABF carriers for high-performance computing are also seeing mixed signals due to greater uncertainty in the future. While carriers are likely to maintain expansion in 2023 compared to other types of PCB products, that growth is expected to be lower than last year and its contribution to the global industry output not be as marked.
Weak consumer demand in the second half of 2022 slowed sales at many companies and clawed back almost all the first-half gains, and that decline will likely continue in 2023. Demand could gradually recover in the second half, and on the whole, there should be less volatility in global end-user products for 2023.
If inflation slows, the economy and consumer demand may see growth again in the second half. If that happens, global PCB sales could grow up to 3% to $90.8 billion. If one-third of global economic entities go into recession as forecast by IMF, however, the PCB industry may shrink. TPCA forecasts the decline in the value of the global PCB industry to be around 4% (to $84.7 billion).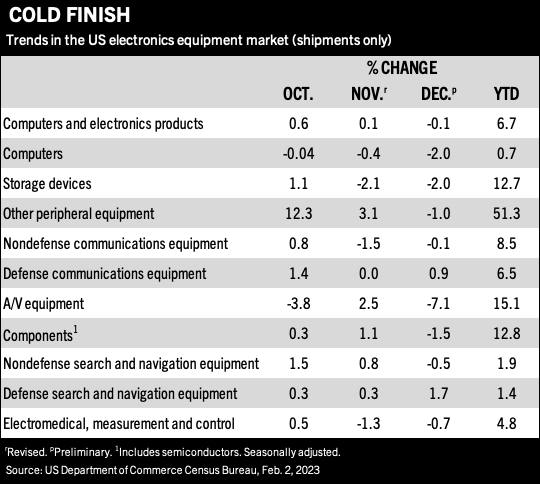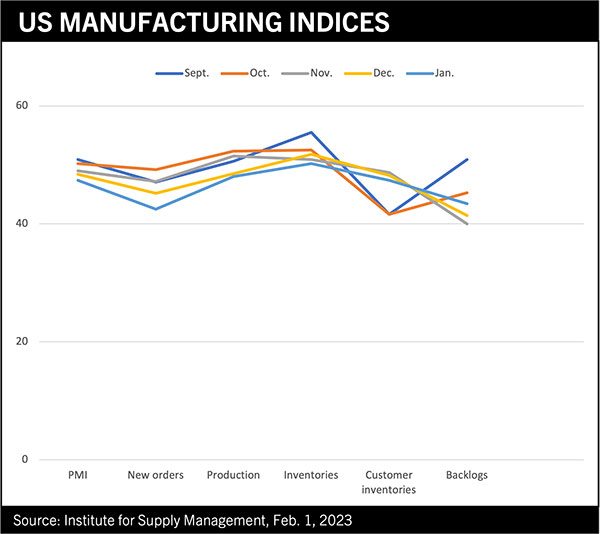 Hot Takes
Worldwide semiconductor sales totaled a record $573.5 billion in 2022, up 3.2% compared to 2021. Fourth-quarter sales of $130.2 billion were down 14.7% from 2021 and 7.7% lower sequentially. (SIA)
PCB and MCM design software revenue increased 15.6% to $344.7 million in the September quarter. The four-quarters moving average rose 13.2%. (ESDA)
North American PCB shipments in December were up down 1.7% versus 2021. Sequentially, shipments dropped 5.1%. Year-to-date bookings were down 26.5% through December, although orders rose 8.1% during the month. Full year shipments were up 10.1%, while orders were down 6.5%. (IPC)
Worldwide tablet shipments grew 0.3% year-over-year in the fourth quarter to 45.7 million units, falling 3.3% overall for the year. (IDC)
Worldwide shipments of total devices (PCs, tablets and mobile phones) are projected to decline 4.4% in 2023, to total 1.7 billion units, following a 11.9% drop last year. (Gartner)
North American EMS shipments fell 2.7% year-over-year in December, but rose 5.8% from November. Bookings dropped 22.7% year-over-year and fell 2.9% from the previous month. For the year, shipments were up 4.5% while orders were down 3.7%. (IPC)
Some 75% of electronics manufacturers are experiencing rising material costs, while 74% indicate that labor costs are on the rise, according to IPC's January Sentiment of the Global Electronics Manufacturing Supply Chain report. Profit margins, inventory from suppliers and ease of recruitment are presently declining. (IPC)
An 18.3% fourth quarter drop in smartphone shipments dragged the annual decline to 11.3%. (IDC)
The automotive industry is estimated to be responsible for 20% of chip demand, and the wireless communication industry is projected to drive 25% of growth by 2030. (SIA)