Report: PCB Industry in Midst of Down Cycle
COLD SPRING HARBOR, NY – Global PCB sales will fall this year before recovering in 2024, according to new market research from Prismark Partners. Industry sales will be $78.4 billion, down 4.1% from last year, and the average annual compound growth rate will be 3.8% from 2023 to 2027, the firm says.
The firm expects a slowdown this year in each of the major PCB categories: rigid, flex circuits, HDI, and IC substrates. The downturn could be short-lived, however, with demand recovering by later this year.
The data are skewed, says the Taiwan Printed Circuit Board Association (TPCA), due to rapid growth of the substrate segment over the past few years. Lower demand in 2023 will result in a "significant decline" this year for BT and ABF substrates.
The trade group said anecdotal reports indicate some optimism for a positive year after bottoming out in the current quarter, provided demand in the second half recovers to typical levels.
Japanese PCB Output Continues Slide
TOKYO – Japan's PCB production continued to shrink in January and recorded the largest decrease in more than six years, with flexible circuit production falling for the third consecutive month, according to the latest statistics released by the Japan Electronics Packaging Circuits Association.
Japanese output of printed circuit boards in January fell by 11.7% from the same month last year to 80.4 million sq. m., with output decreasing 10.7% to 49 billion yen ($375 million).
The output of rigid PCBs in the country fell 8.3% from the same month last year to 679,000 sq. m. in January, shrinking for the 11th consecutive month; the output value fell 11.4% to 29.3 billion yen ($224 million), decreasing for the fifth consecutive month.
Flexible circuit production fell 17.7% to 89,000 sq. m., shrinking for the first time in five months, while output value shrank for the third straight month, decreasing 8.3% to 2.07 billion yen ($15.8 million).
The output of module substrates dropped 42% to 35,000 sq. m., showing a decline for the eighth consecutive month, with output falling 9.8% to 17.7 billion yen ($135 million), the second decrease in three months.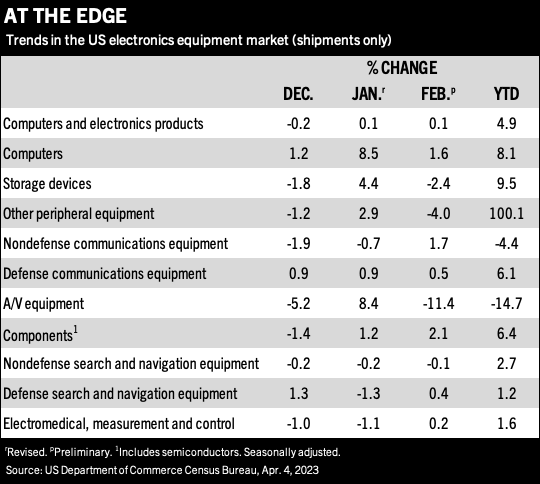 Hot Takes
Global notebook shipments reached 33.9 million units in the first quarter, down 13% sequentially and 39% year-over-year. (TrendForce)
Worldwide IT spending is projected to total $4.6 trillion in 2023, an increase of 5.5% from 2022. (Gartner)
Shipments of traditional PCs fell 29% year-over-year to 56.9 million. (IDC)
Fan-out packaging revenue was $1.86 billion in 2022, and will grow at a CAGR of 12.5% through 2028, reaching $3.8 billion. (Yole Intelligence)
The hardcopy equipment market fell 8.9% year-over-year in the fourth quarter. (IDC)