PCB Design Software Revenue Increases 6% in Q2
MILPITAS, CA – Printed circuit board and multichip module design software revenue increased 6.3% in the second quarter to total $369 million, according to the ESD Alliance in October. The four-quarter moving average for PCB and MCM, which compares the most recent four quarters to the prior four, rose 11.7%.
As a whole, ESD revenue increased 5.3% to $3.96 billion in the second quarter from $3.76 billion in the second quarter of 2022. The four-quarter moving average rose 9.5%.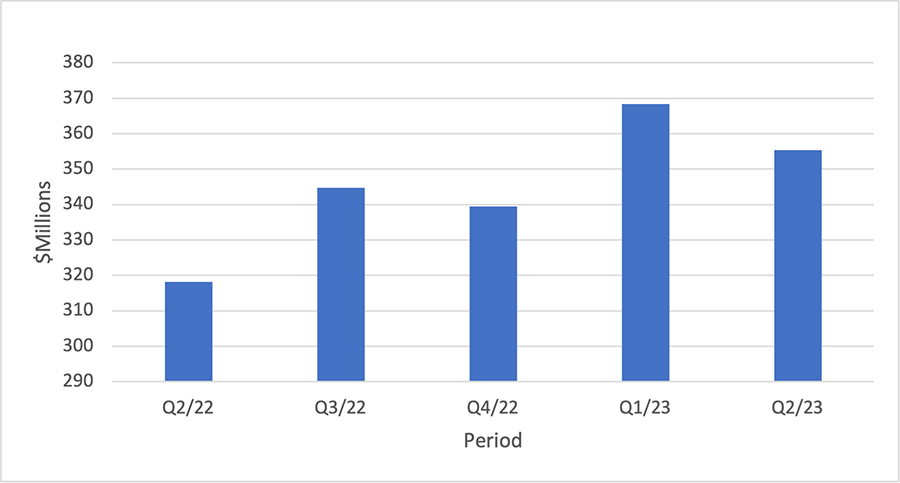 "Growth in total electronic design automation (EDA) revenue in Q2 23 was limited by weak semiconductor IP revenue," said Wally Rhines, executive sponsor of the SEMI Electronic Design Market Data report. "However, total license and maintenance revenue, which includes all design tools, was strong at 16.1% overall with double-digit growth in all regions except Japan."
The companies tracked in the EDMD report employed 59,160 people globally in the second quarter, an 11.8% jump over the headcount of 52,918 in the second quarter of 2022 and up 2.5% compared to the first quarter of 2023.
The Americas, the largest reporting region by revenue, procured $1.63 billion of electronic system design products and services in Q2 2023, a 0.6% decline. The four-quarter moving average for the Americas rose 7.5%. Europe, Middle East, and Africa (EMEA) procured $509.4 million, up 7.8%. The four-quarter moving average for EMEA grew 8.2%. Japan's share decreased 4.3% to $241.6 million. The four-quarter moving average for Japan fell 0.3%. Asia Pacific (APAC) procured $1.58 billion, a 13.1% increase. The four-quarter moving average for APAC grew 14.4%.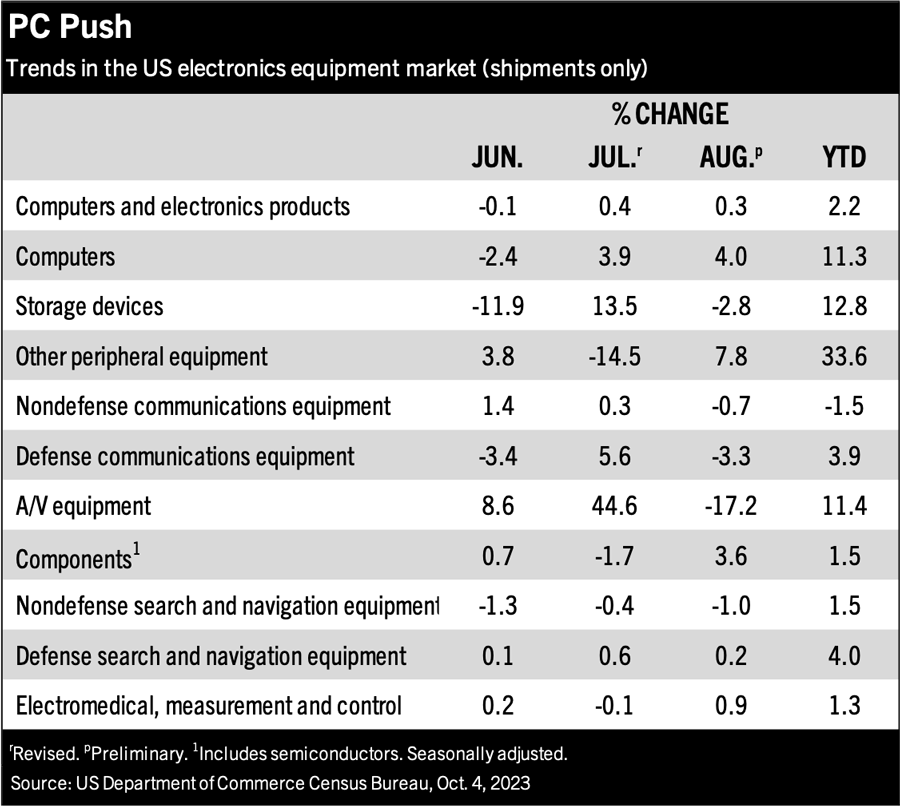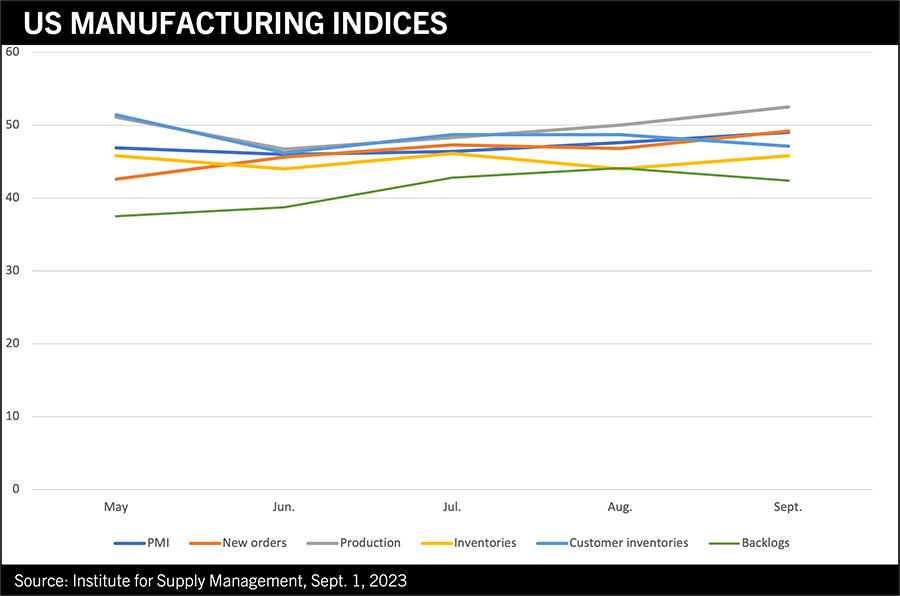 Hot Takes
Orders for electronic products fell 17% year-over-year to $17.2 billion in September, attributable to lower demand for memory chips, foundry services and printed circuit boards as customers were in the process of digesting excessive inventory. (Taiwan Ministry of Economic Affairs)
Taiwan's PCB output has resumed its growth path after declining in the first half of the year, and is estimated to increase 8.1% annually. (Taiwan Institute of Technology and Research)
North American EMS shipments in September fell 9.8% compared to the same month last year, and dropped 12.4% sequentially. Bookings decreased 17.4% year-over-year and fell 14.2% from the previous month. (IPC)
North American PCB shipments fell 14.6% in September from a year ago but climbed 35.7% from August. Bookings slipped 32.7% from last year and jumped 45% sequentially. (IPC)
India's electronics exports hit a 13-month low in September, declining 3.7% from a year ago, and marking a contraction for the first time in 31 months.
Tech companies around the world laid off more than 400,000 workers in 2022 and 2023, according to Layoffs.fyi, a site that tracks job losses across the industry.
The global notebook market is set to rebound in 2024, with a projected 2-5% growth projected in yearly shipments. (TrendForce)
Solder accounted for the largest global share of refined tin use in 2022, increasing marginally to 50% in 2022. (International Tin Association)
Worldwide IT spending is projected to total $5.1 trillion in 2024, an increase of 8% from 2023. (Gartner)
Global spending on GenAI solutions will reach nearly $16 billion in 2023 and is projected to reach $143 billion in 2027. (IDC)
PC shipments declined 7.6% year-over-year to 68.2 million units in the third quarter. (IDC)
Japan's industry ministry is seeking funds totaling some 3.4 trillion yen ($22.8 billion) for subsidies for the semiconductor industry as part of economic measures to be finalized in October. (Japan METI)
NAND flash spot prices have started to rise, and in turn, suppliers have started reporting growth in their monthly sales. Price hikes for DRAM are relatively moderate, as DDR4 suppliers have not yet broken even in their operations. (TrendForce)