PCEA Training Announces Final 2023 Classes
PEACHTREE CITY, GA – PCEA Training's final five-day training class this year is set for Dec. 4-8. The program is designed for printed circuit engineers, layout professionals, and other individuals currently serving in the design engineering industry or seeking to get into it.

These instructor-led classes cover the gamut of printed circuit design engineering, from layout, place and route to specifications and materials to manufacturing methods. Schematic capture, signal integrity and EMI/EMC are also part of the comprehensive program.
There are no prerequisite requirements to enroll. Upcoming classes will be held online. All courses are led by experienced instructors.
Registration fees include the 400-page handbook, Printed Circuit Engineering Professional, authored by Michael Creeden, Stephen Chavez, Rick Hartley, Susy Webb and Gary Ferrari.
The course includes an optional certification exam recognized by the Printed Circuit Engineering Association (PCEA).
For information about the instructors of the course and authors of the course material, visit pceatraining.net/instructors-authors.
For information about the course overview, class format, and materials to prepare in advance for the class, visit pceatraining.net/course-overview.
To apply, visit pceatraining.net/registration for the next available class or contact Mike Buetow at pceatraining@pcea.net for additional information.

Rick Hartley Receives 2023 PCEA Leadership Award
SANTA CLARA, CA – PCEA announced Rick Hartley as recipient of the annual PCEA Leadership Award, for his lifetime service in the pursuit of educating and training PCB design engineers.
The announcement was made at the PCEA annual meeting in conjunction with the PCB West conference and exhibition.
Hartley was one of the cofounders of PCEA in 2020, and was the first chair of the Conferences Task Group. He also reviewed much of the reference material in the Education section of PCEA's website. In his 50 years in the electronics design industry, Hartley has become a go-to for training on signal integrity, noise control, and EMI. He is the most popular speaker in the history of the PCB West conference, and has developed a series of webinars and workshops to train design engineers and designers.
"Rick Hartley's name is synonymous not only with design engineering, but even more importantly, with sharing what you know with your industry peers and colleagues," said Stephen Chavez, chairman, PCEA, in announcing the award. "He is a bright example of the power of determination and positivity, and he embodies the best in what PCEA offers its members and the industry." 

Bob McCreight Named 2023 PCEA Membership Award Recipient
SANTA CLARA, CA – Silicon Valley chapter president Bob McCreight has been named the second annual PCEA Membership Award recipient. The announcement was made at the PCEA annual meeting in conjunction with the PCB West conference and exhibition.
McCreight has been the president of the Silicon Valley chapter of PCEA since its inception. He currently works for Tesla as a printed circuit board assembly (PCBA) designer and has been active in the printed circuit industry for more than 30 years.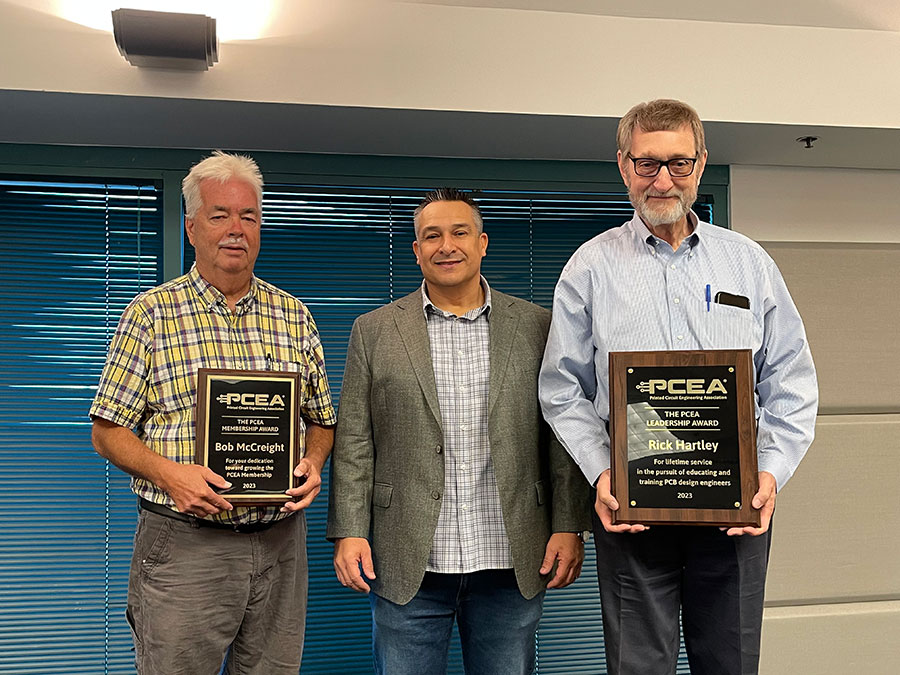 "Bob McCreight is very deserving of the 2023 membership award," said Stephen Chavez, chairman, PCEA. "He has been an active contributor in our industry for many decades, and continues to provide outstanding leadership in his role as chairman of the local PCEA Silicon Valley chapter. Bob is a model for getting things done, and it gives me great pleasure to recognize him with the PCEA Membership Award."

PCB East 2024 Conference Task Group Named
PEACHTREE CITY, GA – A new slate of engineers has been named to the PCB East 2024 Conference Task Group. Troy Hopkins, senior hardware design engineer at Connect Tech Inc., will be leading the group as the chairman alongside nine other printed circuit industry veterans.
Other industry experts in the task group include Stephen Chavez, Tomas Chester, Rick Hartley, James Jackson, Matt Leary, Matthew McBride, Dale Parker, Carl Schattke and Susy Webb.

"We are thrilled to bring together this exceptional group of industry experts," said Hopkins. "Their vast experience and collective wisdom will be instrumental in curating a PCB East 2024 conference program that addresses the challenges facing electronics engineers by showcasing the latest innovations and best practices in PCB design and manufacturing.
"Together, we will ensure that this conference continues to provide massive value, empower PCB designers, and continues to drive our industry forward."
PCB East is the largest technical conference and exhibition for the electronics design, fabrication, and assembly industry in New England.
The one-day exhibition takes place Jun. 5 at the Boxboro Regency in Boxborough, MA, while the four-day technical conference takes place Jun. 4-7.
For details, visit pcbeast.com.

PCEA Issues Call for Abstracts for PCB East 2024
PEACHTREE CITY, GA – The PCEA Conferences Task Group seeks abstracts for the upcoming PCB East technical conference, coming to the Boston suburbs next spring. The conference will focus on training and best practices for printed circuit board design engineers, electronics design engineers, fabricators and assemblers.
The four-day technical conference will take place Jun. 4-7, 2024, in Boxborough, MA. The event includes a one-day exhibition on Jun. 5.
Papers and presentations of the following durations are sought for the technical conference: one-hour lectures and presentations; two-hour workshops; and half-day (3.5-hour) and full-day seminars.
Preference is given to presentations of two hours in length or more, and no presentations of less than one hour will be considered.
Abstracts of 100-500 words and speaker biographies should be submitted to PCEA. Papers and presentations must be noncommercial in nature and should focus on technology, techniques or methodologies related to printed circuit board design, fabrication, assembly, test, components or packaging, and additive manufacturing.
Submit abstracts to pcbeast.com/abstract-submission-guidelines by Nov. 10. No emailed abstracts will be accepted.
Presenters of accepted abstract(s) for the 2024 program receive complimentary access to the online proceedings and a complimentary pass to the technical conference.

PCB West 2023 Show Registration Grew 5%
PEACHTREE CITY, GA – Nearly 2,000 industry professionals, representing 36 countries and 46 states, registered for the PCB West conference and exhibition held last month. Overall attendance was up 5% year-over-year, and the show floor was completely sold out for the exhibition.
The annual conference took place Sept. 19-22, including a one-day exhibition on Sept. 20, at the Santa Clara (CA) Convention Center. It attracted engineers and other professionals from a range of printed circuit and electronics design, fabrication, assembly and advanced packaging companies.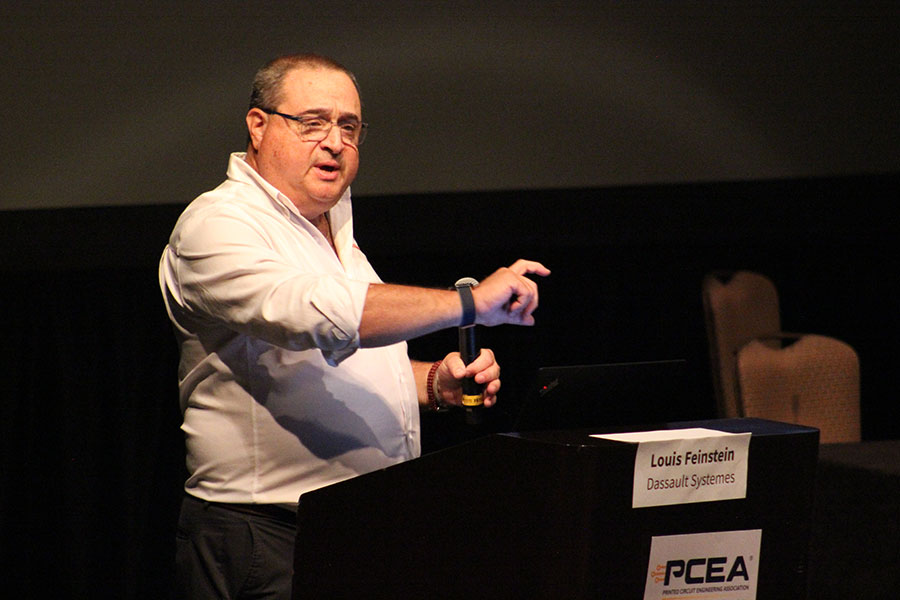 "PCB West isn't just a trade show; it's an amazing event that brings industry minds together and sparks innovation," said Kelly Atay, marketing program manager, ASC Sunstone Circuits, a US-based printed circuit board fabricator. "Can't wait for the next one!"
"The ICAPE team had a wonderful time at PCB West 2023!" said ICAPE USA, a supplier of printed circuit boards and electronic assemblies. "We were very impressed with the turnout!"
"We really enjoyed it, and it has given us more confidence that we should be doubling down on the US market," said Sebastian Schaal, founder and managing director at Luminovo, a provider of software for monitoring, quoting and procuring PCBAs.
PCEA also announced PCB West 2024 will take place Oct. 8-11, 2024, at the Santa Clara (CA) Convention Center. The event includes a one-day exhibition on Oct. 9.

Rio Grande Valley. The chapter is planning its October meeting. Doug Brooks will speak on PCB trace temperature myths (vias get hot, current density matters, and thermal vias work).