Show Them the Money
Compensation continues to rise among PCB designers.
by Tyler Hanes
After last year saw an explosion in printed circuit designers and design engineers reporting salaries above $150,000, this year's survey conducted by PCD&F/CIRCUITS ASSEMBLY found an even higher number, with 22% reporting their salaries in that range, compared to 19% in 2022.
The percentage of designers making more than $100,000 annually also rose from last year's results, with 55% in 2023 compared to 35% last year, and around 83% of designers reported receiving raises over the past year.
PCD&F/CIRCUITS ASSEMBLY surveyed designers and design engineers this year from mid-July to Aug. 23. More than 170 designers responded to the survey, answering questions related to job titles and functions, ages, years of experience, education, location, types of projects, annual salaries and sales, job satisfaction and challenges, ECAD tools used, and years left in the field.
As of August, the US unemployment rate stood at 3.5% with average hourly earnings increasing by 4.4% over the last 12 months.1 For respondents, salaries have mostly followed in line with national trends. Of those who saw a raise, 32% of those surveyed said their pay increased 4-6% in the past year, 24% saw their salaries increased by 1-3%, and 16% felt the love from their employers with a raise of more than 10% (FIGURE 1).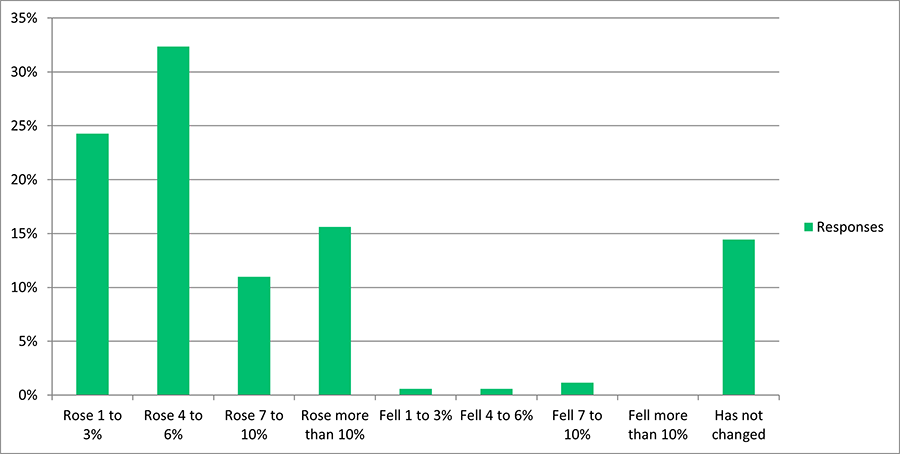 Nearly half of the respondents – 48% – said they were at the top of their company's salary range for their position, while 52% reported that they still have room to grow in their organization.
Salaries were not the only form of compensation that increased for the year. A greater percentage of designers – 64% – reported receiving an annual bonus, compared to 55% in 2022. The bonuses trended higher as well, with 47% of those receiving a bonus indicating that it totaled more than 7% of their annual salary (FIGURE 2).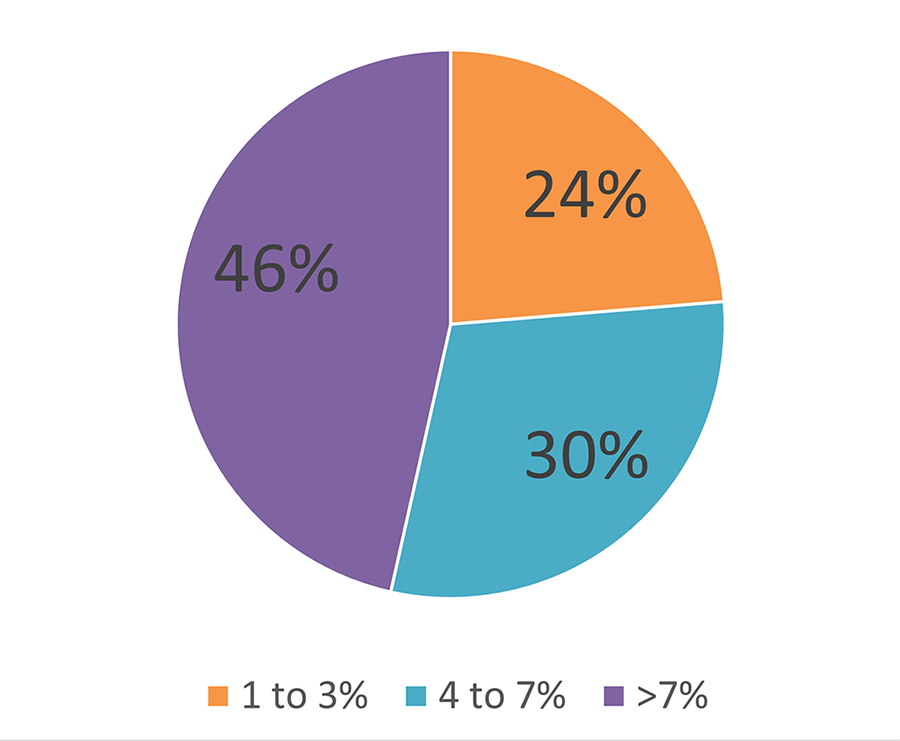 While the money continues to flow, more designers are indicating that they are satisfied with their current positions. Some 77% of respondents reported being mostly satisfied. But while they may be comfortable now, companies shouldn't rest, as just 44% of designers said they planned to be in their current job for the next one to five years.
Respondents. PCB designers are getting older, but there has been an influx of youth in recent years, as the top responses for years of experience in the industry were the upper and lower ranges.
Slightly more than 30% of respondents said they had more than 30 years of experience in PCB design, while 18% said they had been in the field just one to five years. Both responses are trending younger than last year's results, which found nearly 40% with more than 30 years of experience and 15% with one to five years (FIGURE 3).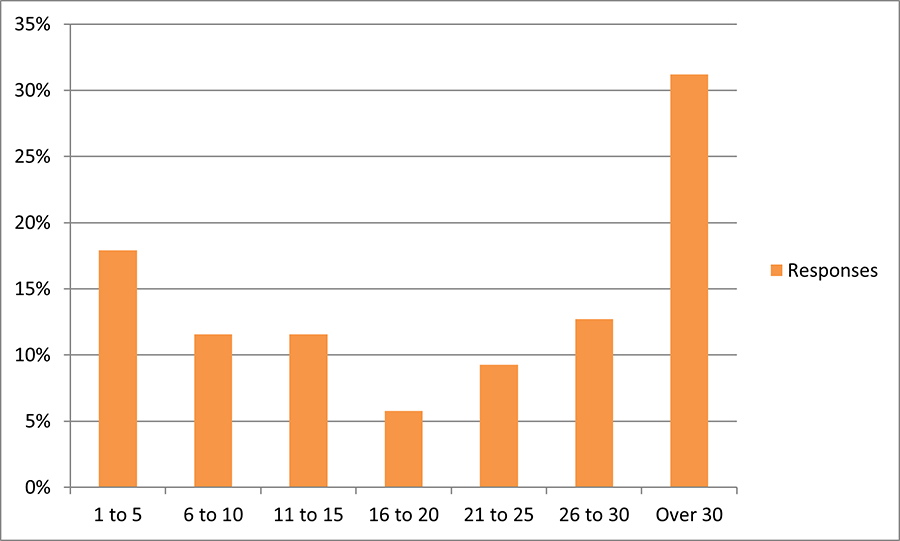 The years of experience were also reflected in the ages of respondents, with 23% reporting they were between the ages of 61-70, 23% were 51-60, and 25% were 41-50. Designers aged 26-30 made up 9% of respondents, while ages 31-40 made up 16%.
Most respondents – 68% – were from the US, with 12% coming from Central/Western Europe, 8% coming from Canada, and 3% reporting from Eastern Europe. While there were a handful of participants from India and Southeast Asia, there were no responses from China, which is likely due to the language barrier in non-English-speaking countries.
Job titles and functions. Nearly 38% of respondents indicated their position as a senior-level PCB designer or design engineer, while 20% reported PCB designer or design engineer as their job title. Rounding out the top job titles were senior hardware engineer and hardware engineer at 9% and 8%, respectively, while PCB design managers made up 6% percent of respondents and electrical engineers made up 5%.
Job functions were less varied, with 65% of respondents reporting that their principal function was PCB design, and 13% indicating that their main job function was PCB engineering (TABLE 1).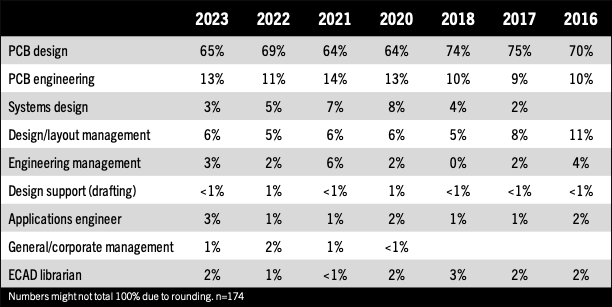 More money, more responsibilities? More than half of designers said they produce between one and 10 new designs each year, with 32% producing one to five and 27% producing six to 10. On the higher end of the scale, the number of designers producing more than 30 designs per year rose to 11% (FIGURE 4).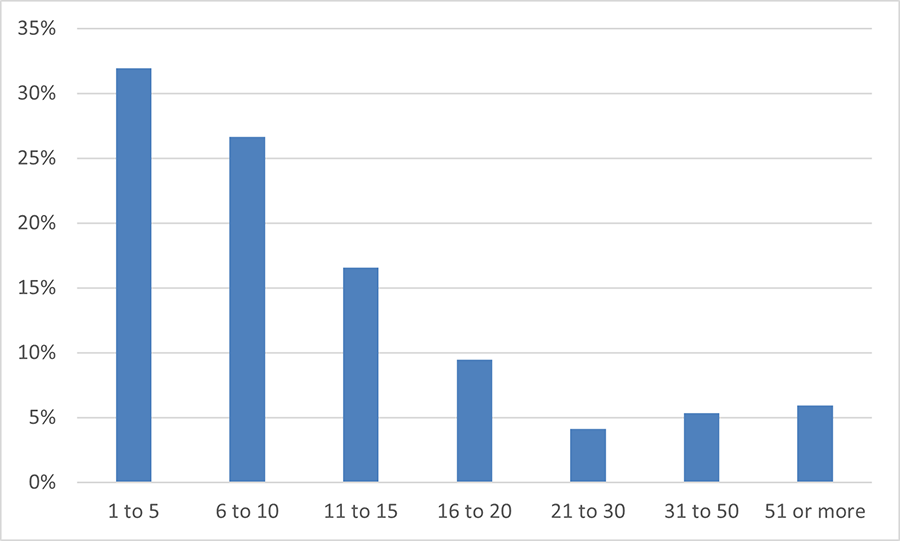 More than 75% said they produce between one and 10 respins each year, while 11% said they produce 11-15.
More than 80% of respondents said they engineer, design, and/or lay out four- to six-layer PCBs, with nearly the same amount producing double-sided PCBs. Some 65% of designers said they produce seven- to 10-layer PCBs and BGAs, while 40% said they still produce single-sided PCBs (TABLE 2).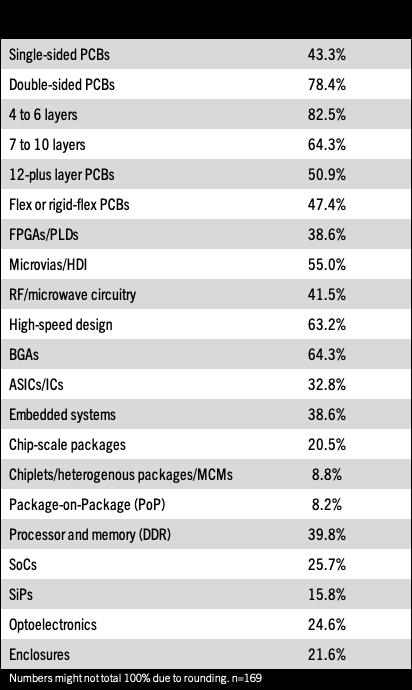 More than half of respondents said they spend at least 50% of their week on board design, but 24% said they spend 51-75% of their week on design, followed by 21% who spend 76-99% of their week on design (FIGURE 5).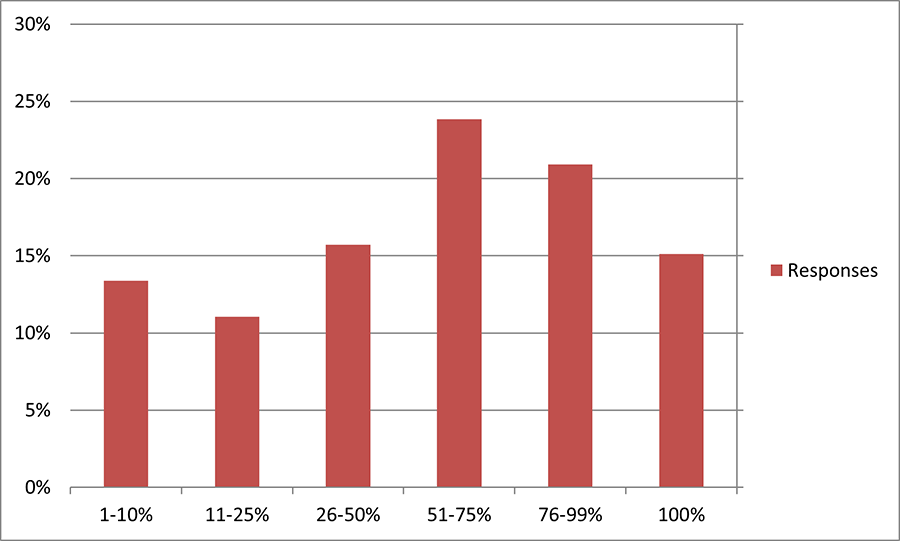 When asked what they believed to be their biggest challenges in the coming year, 66% of respondents answered workload, while 40% were worried about keeping up with changes in technology (FIGURE 6).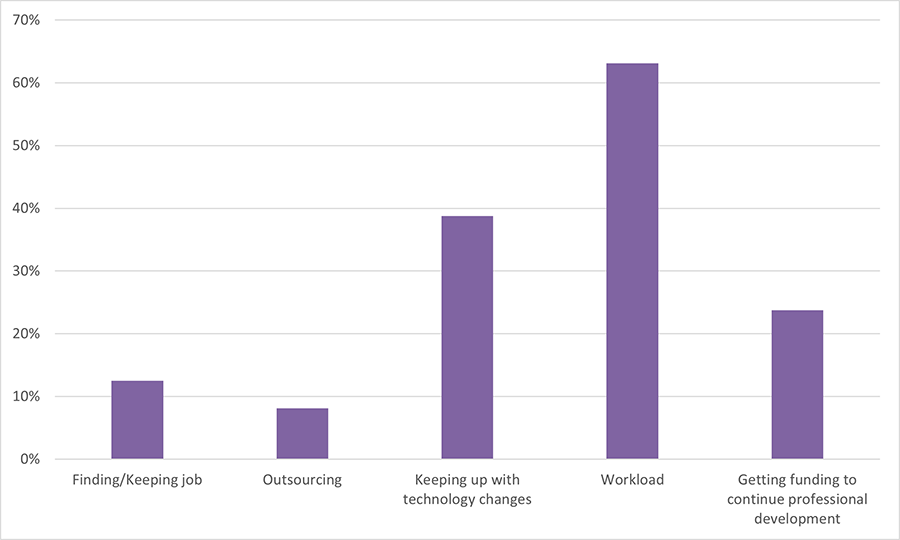 Other findings. Altium Designer remained the top ECAD software seeing regular usage among respondents, with 48% of respondents indicating they use it on a weekly basis, followed by Cadence Allegro at 28%, Siemens Xpedition at 22%, Cadence OrCAD at 14%, and Siemens Pads at 12%.
On-the-job training was the top educational opportunity supported by employers, with 61% of respondents reporting its availability, followed by tuition reimbursement at 55% and classes at conferences at 52%. The availability of mentoring saw a slight bump to total 40%, as did industry certification, which also came in at 40%.

References
1. US Bureau of Labor Statistics, Employment Situation Summary, Aug. 4, 2023, https://www.bls.gov/news.release/empsit.nr0.htm.
Tyler Hanes is managing editor of PCD&F/CIRCUITS ASSEMBLY; tyler@pcea.net.