PCB Outlook for 2023 Mixed, but Slow
TAIPEI – The printed circuit board industry endured customer inventory adjustments in the second quarter, mostly due to lower demand. Sales of consumer electronics, such as TVs, laptops, memory modules and wearables have stabilized and cellphone demand typically rises in the third quarter in the US, although the Chinese market has not yet improved. Still, the inventory problems of the past year have in general returned to healthier levels, but under the haze of inflation, consumption is still conservative, and a modest recovery is expected for the second half.
Demand for AI servers is boosting that segment, and is expected to continue in the third and fourth quarters. As for the general server market, inventory adjustments of the first half have come to an end, and a third quarter ramp has begun. Meanwhile, automotive – both gas and electric vehicles – has performed better than last year, and the second half is not bearish.
Prismark Partners forecast PCB output values to show a year-over-year decline of about 1.9%. Based on current demand levels, however, Shen Qingfang, chairman of Zhen Ding, expects this year's PCB output will drop by double-digit levels.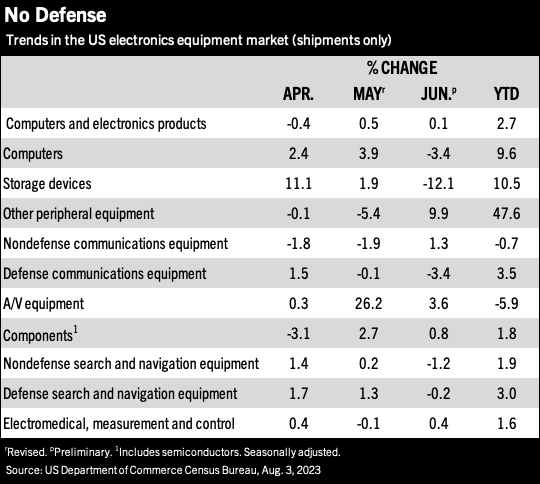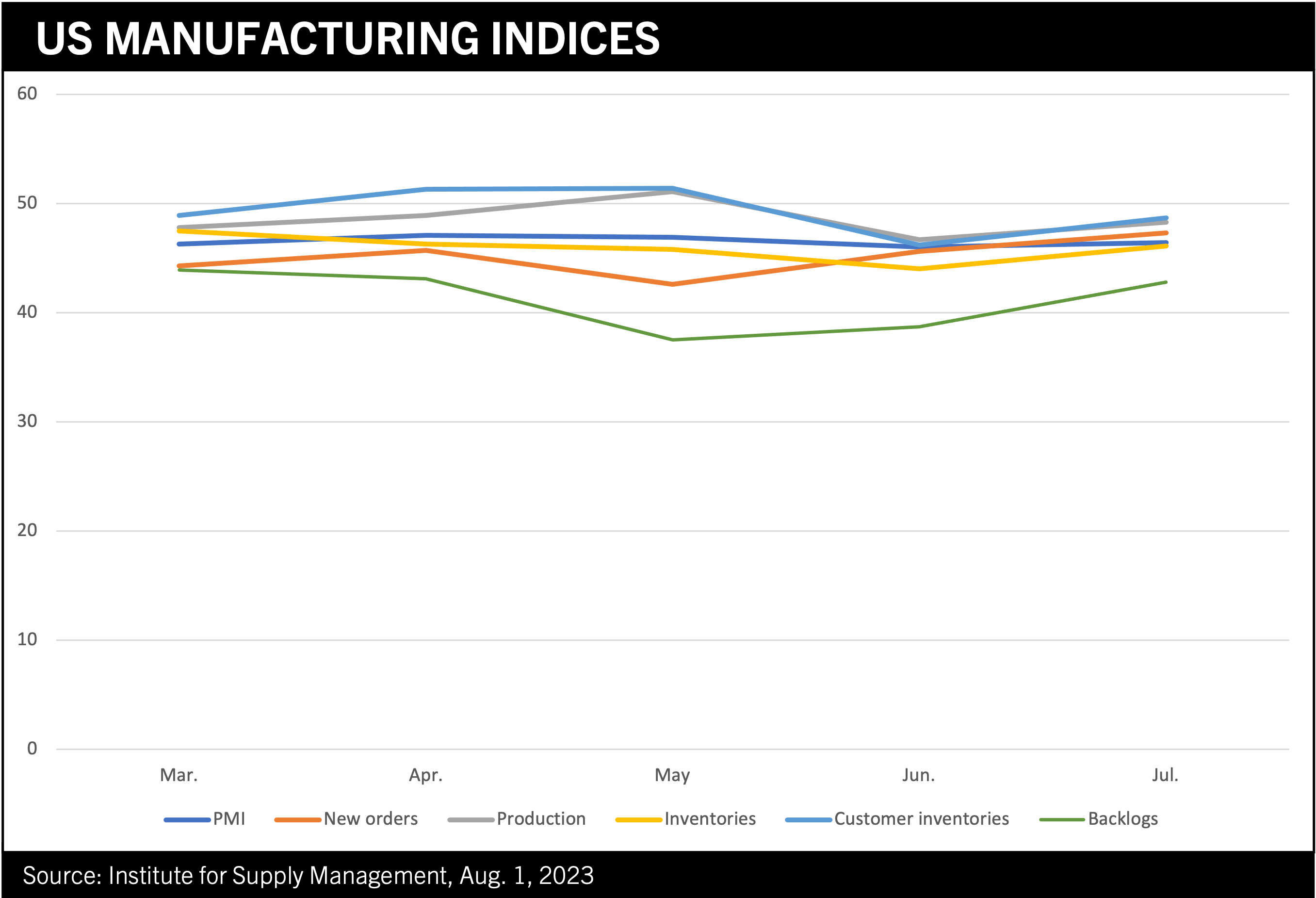 Hot Takes
The worldwide contract manufacturing market reached a new all-time high of $694.4 billion in 2022, but the year-over-year growth rate flattened from the previous year, decreasing to 1.7% from 14.8% – the lowest growth seen over the past five years. (New Venture Research)
The global semiconductor industry appears to be nearing the end of a downcycle and is expected to begin to recover in 2024. (SEMI and TechInsights)
Worldwide semiconductor sales totaled $124.5 billion during the second quarter, up 4.7% sequentially but down 17.3% from 2022. The three-month moving average sales rose 1.9%. (SIA)
Five EMS transactions were recorded in the second quarter, representing an increase from the four recorded in the second quarter of 2022 but a decrease from the nine transactions recorded 2021's second quarter. (Lincoln International)
Worldwide tablet shipments declined 29.9% year-over-year in the second quarter, totaling 28.3 million units. (IDC)
The surplus of DRAM and NAND flash memory has dramatically improved since the third quarter, with the oversupply ratio likely to turn negative as early as the fourth quarter, (DigiTimes)
While semiconductor shortages are still observed in certain technologies – MCUs specifically – the market in general is slowly improving with high-service distributors having more ex-stock availability and broadline distribution carrying increasing stock levels while also accepting orders to lead-time and pipelined inventories.
The Shipments Index, Orders Index, and Capacity Utilization Index all weakened in July, but at the same time, the outlook for shipments, orders, and utilization all improved. (IPC)
Worldwide smartphone shipments declined 7.8% year-over-year to 265.3 million units in the second quarter. (IDC)
Inventories are gradually going back to normal levels and the PC market is likely hitting bottom. (Intel)