PCD&F
3D Systems Accura AMX SLA MaterialAccura AMX Tough FR V0 Black flame-retardant material for stereolithography is also available as Figure 4 Tough FR V0 Black for use with 3D Systems' Figure 4 platform. Delivers enhanced part quality and resolution for SLA previously only achievable with selective laser sintering (SLS) and fused deposition modeling (FDM) technologies. Achieves UL 94 V0 rating and features a combination of flexural modulus and unmatched elongation at break of nearly 35%, which combine with long-term stability to make the material ideal for applications such as printed circuit board covers, semiconductor equipment, electrical housing, covers, hangers, brackets, and flame-retardant parts for trains and buses.
3D Systems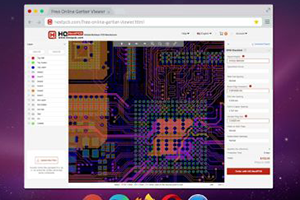 HQ NextPCB HQDFM Gerber Viewer HQDFM Gerber Viewer and DfM Analysis Tool is a free online tool for displaying and reviewing PCB Gerber files and OBD++ files. Incorporates NextPCB's design for manufacture algorithms and allows designers to navigate and analyze production files and check for design issues that may impact manufacturing or cause long-term reliability issues. Based on the free desktop software HQDFM and available to anyone, including Mac and Linux users, with no download or install and no signup.
HQ NextPCB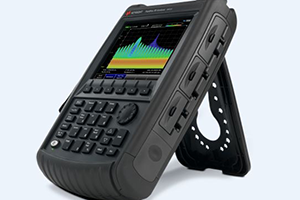 Keysight N9912C FieldFox AnalyzerN9912C FieldFox handheld analyzer is a software-defined radio frequency testing platform that offers more than 20 vector network analyzer, cable and antenna tester, and spectrum analyzer options for upgrade and download. Enables engineers to mix and match software applications for their specific analysis needs on a single handheld device and is fully upgradable with license-key activated maximum frequencies, analyzer types, bandwidths and software applications. Provides spectrum and network analysis down to 3kHz and up to 10GHz to test and troubleshoot a wide range of high frequency and wireless applications.
Keysight Technologies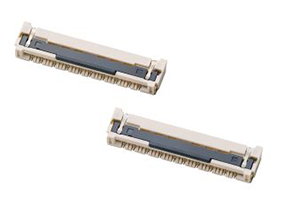 Kyocera 6893 Series FPC/FFC Connectors 6893 Series connectors for flexible printed circuit boards and flexible flat cables feature 0.5mm-pitch one-action locking. Feature proprietary contact-pin structure with twice the foreign-matter removal effectiveness of conventional Kyocera products, ensuring a superior electrical connection that reduces contact failure rates and improves connection performance and reliability. Also features restructured locking section that locks the FPC/FFC in a single operation, reducing assembly labor by two-thirds. Heat-resistant up to 125°C and mountable on in-vehicle devices such as HUDs, clusters and CIDs with strict high-temperature compliance.
Kyocera

NI LabVIEW Analysis Tool LabVIEW systems engineering software now includes more features to enable engineers in their use of test insights and data to drive product and business performance. New features include Zoom for Block Diagram, quick change for faster object creation, double-click to create control or indicator from a wire, visual improvements to Highlight Execution and option for execution speeds, faster re-building of applications and packed project libraries, and virtual environment support for Python and LabVIEW users.
NI
Rogers TC Series LaminatesTC Series laminates are designed to address the critical thermal management needs of applications requiring high-power RF signals, offering improved performance and reliability in demanding environments. Composed of PTFE, woven fiberglass, and high thermal conductivity ceramic-filled materials, which provides a range of benefits including low loss tangent, high thermal conductivity, low CTE, and excellent temperature phase stability. Offer reduced junction temperature, improved reliability, and enhanced thermal dissipation capabilities for high-power applications, and can maintain a stable dielectric constant (Dk) even with temperature variations.
TC350 laminates offer a Dk of 3.50, thermal conductivity of 0.72W/m-K, TCDk of -9ppm/°C, and are for power amplifiers, communication systems, and thermal solutions.
TC350 Plus laminates feature a Dk of 3.50, z-axis thermal conductivity of 1.24W/m-K, TCDk of -42ppm/°C, and are for applications that demand superior thermal management and reliability.
TC600 laminates offer a Dk of 6.15, thermal conductivity of 1.1W/m-K, stable TCDk of -75ppm/°C, and are for backhaul radios, thermal solutions, and communication systems.
Rogers Corporation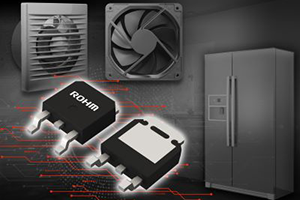 Rohm R60xxRNx Series MosfetsR60xxRNx series is an addition to its PrestoMOS lineup of 600V Super Junction mosfets. Maintains the high-speed trr characteristics of PrestoMOS while minimizing noise. Achieves trr of 40ns by improving conventional lifetime control technology, reducing switching losses by approximately 30% over general products, and newly developed Super Junction structure is said to reduce noise characteristics by about 15dB compared to standard products.
Rohm Semiconductor
Toray Millimeter Wave Absorption FilmAbsorption film can efficiently absorb millimeter wave band electromagnetic waves employed in 5G communications and other applications. Uses nano-multi-layer film technology to deliver an absorption capacity of at least 20dB (99%) for millimeter waves and make it possible to select absorption frequency. Is one-fifth the thickness and one-tenth the weight of conventional counterparts and eliminates electromagnetic interference in 5G devices incorporating millimeter wave modules while also helping to lighten devices and enhance design flexibility.
Toray Industries
Virtual Systems Engineering Preview ProPreview Pro is a physics-based modeling and simulation platform that can complete analysis and test iterations virtually, thus reducing time expended and money spent. Features a virtual 3-D environment that allows users to import from STEP, visualize integrated form fit, visualize PCBs, including layers, traces, pads and vias, and visualize PCAs, including components, connectors, etc. Data coordination features include the ability to automatically search and display parts, visualize component data with graphical feedback, and replace/exchange parts based on specs and criteria. Physics-based testing features a virtual multi-meter, upstream package-analysis studies, component- and system-reliability analysis, and the ability to integrate with thermal and EMI/EMF software.
Virtual Systems Engineering

CA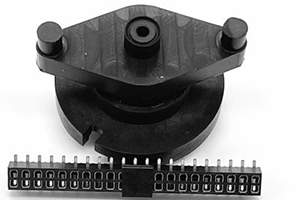 Count On Tools 2023-5260 Vacuum Nozzle 2023-5260 specialized vacuum nozzle is designed to handle all types of odd-shaped components with unmatched precision. Is paired with two outlying supports to offer exceptional accuracy and consistency during the placement process, allowing customers to effortlessly and reliably place the challenging SKT108775GQS header – a feat that previously relied on a manual hand placement process.
Count On Tools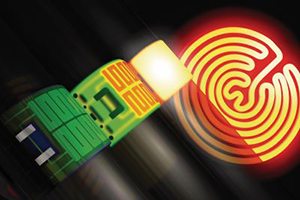 Heraeus PTC4900 Heater InksPTC4900 series self-regulating heater inks offer enhanced performance, expanded operating temperatures, and additional customization options. Designed for precise temperature control and are suitable for various applications, including EV battery heaters, ADAS heaters, flooring heaters and cabin comfort heaters. Target heater operating temperatures between 50°-90°C, with products targeting temperatures above 100°C currently in development. Permits precise heating with self-regulating properties, eliminating time-consuming adjustments and permitting wider process windows.
Heraeus Electronics
Humiseal UV550 Conformal CoatingHumiseal UV550 is a solvent-free, UV-curable elastomeric acrylate conformal coating. Exhibits company's highest performance to date regarding thermal and mechanical shock testing when compared to previous generation UV curable conformal coatings and has shown the capability to withstand and resist cracking under 1000 or more cycles of thermal shock in standard testing protocols. Can be cured by single-wavelength LED lights and is compliant with key worldwide environmental standards including RoHS Directive EU 2015/863, China RoHS 2, and China Standard GB30981-2020.
Humiseal
Jidoka Fujin Inspection UnitFujin hardware unit is designed to detect small and minute defects in flat surfaces that require scrupulous inspection and are imperceptible to the human eye. Is a two-axis table for end-of-line inspection where its motion can be designed to be used to move the product in front of the stationary camera or to move the camera across the length and width of the stationary component and is said to be able to capture small defects on the order of 0.1mm on a 500mm product. Customized to the product type, complexity in shape, size, nature of defects, and production volume, and fits in seamlessly on the production line for in-process as well as end-of-line inspections. Depending on component size and requirements, can detect defects and anomalies in products with a speed of three to five parts per minute and an accuracy rate of at least 98%.
Jidoka Technologies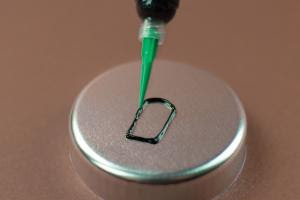 Master Bond Supreme 3DM-85 EpoxySupreme 3DM-85 no-mix, non-solvent-based, one component epoxy is formulated to serve as the damming compound in dam-and-fill encapsulation applications. Can be used for bonding and sealing, especially where no flow is needed since the material cures in place and will not run or slump. Requires a relatively low heat cure of 85°C for 2-3 hrs., is thermally conductive and electrically nonconductive. Features a thermal conductivity of 5-10 BTU•in/ft2•hr•°F [0.72-1.44 W/(m·K)] and is said to play an important role in facilitating effective heat dissipation and preventing overheating, especially in densely packed electronic assemblies. Maintains a Shore D hardness of 75-85, offers excellent damp heat resistance and has a good physical strength profile. Serviceable from -100° to +350°F (-73° to +177°C).
Master Bond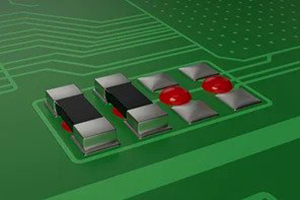 Panacol Structalit 5604 AdhesiveStructalit 5604 is a one-component epoxy resin adhesive that contrasts well with green PCB material due to its red color, allowing for visual inline inspection. Can be dispensed in production through jetting, valve dispensing, or screen printing, and its ideally adjusted viscosity and high thixotropy index enable high-speed dispensing, precise dot profiles, and non-slumping wet adhesion prior to curing. Thermal cure occurs within minutes, even at low temperatures, and when fully cured, is extremely temperature resistant. Can withstand short-term temperatures of up to 270°C, making it suitable for reflow soldering processes. Is also particularly shock-resistant and adheres to FR-4 printed circuit boards, metals, and epoxy-based molded materials. Has high ionic purity and thus provides optimum protection against internal corrosion, and due to high glass transition range of >115°C, is ideal for electronic component assembly.
Panacol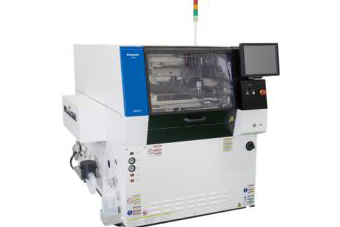 Panasonic Connect NPM-GP/L Screen Printer NPM-GP/L screen printer brings together hardware and software in a complete manufacturing solution, along with a full services support package. Production line changes can occur within a cycle time of 12 sec., including the cleaning cycle and with ±3.8µm positional repeatability. Handles a variety of PCB sizes up to 510 x 510mm and includes functions to achieve high-quality printing, including mask adhesion to prevent dragging, adjustable squeegee for optimum fill, and a solder and adhesive dispense head. Delivers sub-4 min. automated production line changeover from start to end, including automatic solder paste transfer, metal mask changer, and support pin replacement. Automates additional tasks during production, including solder supply using a perforated pot and a paper-free wiping unit that does not require solvent. Maintains status of materials during production and can automatically change printing parameters to achieve stable production. Machine-to-machine process control is enabled via communication with nine industry solder paste inspection partners across 29 different models.
Panasonic Connect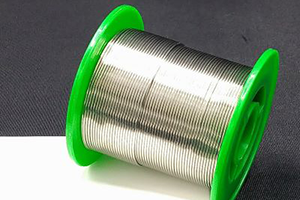 Shenmao PF735-LT201 Solder WirePF735-LT201 low-temperature lead-free no-clean solder wire offers exceptional solderability and reliability for low-temperature PCBA soldering and rework processes. Achieves solderability by incorporating special low-temperature rosin and activators, ensuring optimal adhesion and a strong bond. Soldering process results in colorless flux residue, thanks to the inclusion of special surfactants. Is halogen-free (ROL0) and fully compliant with RoHS, RoHS 2.0, and REACH regulations, and enhances the working environment through reduced splash and smoke during soldering.
Shenmao America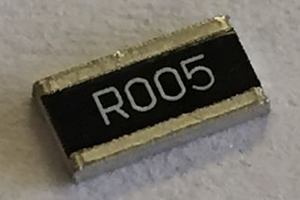 Stackpole CSRF1225 Foil CSRF foil on ceramic carrier series of current sense resistors now offers a 1225 size resistor rated at 3W. Available in resistance values from 1mΩ to 100mΩ in tolerances down to 0.5% and TCR as low as 50ppm. For power supplies, motor controls, industrial controls, voltage regulators, and LED drivers.
Stackpole Electronics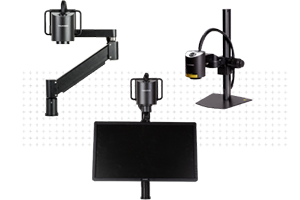 Tagarno Zap Microscope AccessoriesZap stereo microscope now includes accessories that permit the features and ergonomic benefits of a digital microscope without the need for a complete overhaul. Transforms existing stereo microscope with a ø76 yoke by removing the eyepiece and inserting the camera head, which enables the benefits of a digital microscope without disassembling and rebuilding the entire setup. Optimizes workflow, achieves ergonomic benefits, and seamlessly integrates digital microscopy into existing equipment.
Tagarno
TRI TR5001E SII ICTICT TR5001E SII series offers comprehensive testing capabilities by consolidating MDA, ICT and FCT functionalities into a single platform, streamlining production lines and reducing costs. User-friendly interface simplifies programming and debugging supported by auto-tuning. With extensive functionality, including on-board programming, boundary scan, LED analysis, and more, it can handle various tests such as R/L/C measurements and capacitor polarity tests. Capacity of up to 3,456 testing points.
Test Research, Inc.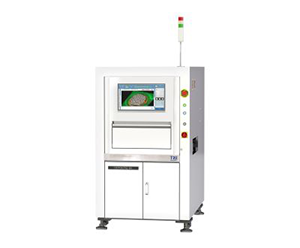 TRI TR7007Q SII 3-D SPI TR7007Q SII 3-D SPI system is designed to maximize production efficiency. Delivers up to 50% faster inspection compared to previous models and is equipped with a 9.8µm high-resolution 21MP camera to deliver enhanced measurement accuracy and stability. Effectively inspects bumps, flux, mini LED solder and bare boards. Improved accuracy and stability enable precise solder measurements and minimize false calls, and is equipped with a wide spectrum light system and coaxial lighting to provide higher contrast, exceptional clarity and uniformity to improve detection rates.
Test Research, Inc.